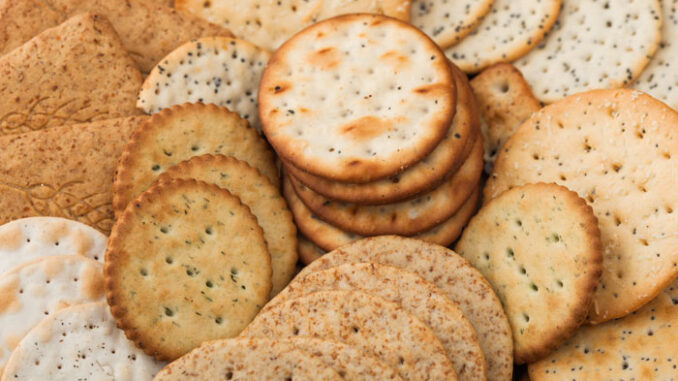 Whether dipped, topped or arranged on a charcuterie board, crackers offer a wide variety of dinning options. Supermarkets can drive sales of deli crackers by creatively merchandising these items to cheese connoisseurs, party hosts and discerning consumers.
And they are having success. IRI, a Chicago-based market research firm, reports that for the 52 weeks ending Aug. 7, 2022, sales of crackers totaled $8.6 billion for Total U.S. Multi-Outlet with c-stores—a 9% increase over the previous 52-week period.
Small Batch, High Quality
When it comes to crackers, deli versus grocery products differ in purpose and production. Crackers and crisps in the deli tend to be artisan quality and small batch.
"And they are a lot fresher, sometimes just a few days out of the oven," says David Payne, owner/general manager of Potter's Crackers in Madison, WI. Its crackers are hand rolled and chock full of locally-sourced whole-wheat flour and Wisconsin milk and butter.
The deli tends to carry high-quality crackers. "We do a lot of flatbreads in the deli, and they are geared towards that with our packaging," says James Anderko, vice president of sales and marketing for Venus Wafers, Inc. in Hingham, MA. "But we do have accounts with water crackers that do well in deli."
Deli crackers come in a variety of flavor profiles. Many are carrier crackers, formulated with flavors and ingredients intended to elevate their toppings.
"These crackers are meant to hold up when putting spreads, cheese or dips on top, or when being used as a base for hors d'ouevres." says Jenni Bonsignore, marketing manager for Valley Lahvosh Baking Co. in Fresno, CA. "Ours are a go-to cracker for people who entertain."
Today's Trends
As far as trends, deli crackers are often organic to satisfy consumer desires for healthy snacks. Venus Wafers produces nearly 20 cracker flavors, all of which are non-GMO and Kosher.
Gluten-free crackers remain popular, and the trend has led to a smaller, yet growing segment of grain-free crackers.
"We now find many gluten-free baked goods to carry a mix of alternative flours and ingredients, like cassava, almond, oat, coconut, legumes, etc. to balance the taste, texture and density of the products," says Steve Lorenz, director of marketing for the U.S. at Dare Foods, part of La Panzanella, LLC in Seattle.
There is also a switch to healthy, functional ingredients like olive oil. La Panzanella's new wild blueberry and almond raincoast crisp contains pumpkin, flax and chia seeds.
"These not only add to the flavor complexity and balance of the crisp, we know that super seeds have nutrient value and are important to specialty food customers," Lorenz says.
Another trend is environmental awareness. Mintel reports in the next two years, the bakery industry will need regenerative farming to succeed. Cracker makers are already paying attention and making adjustments.
"There is environmental intention creeping into the product with sustainable crops and regenerative crop use. And then upcycled ingredients, whether it is beer grain or juice pulp or oat milk by-products," says Cara Figgins, president of Partners Crackers in Des Moines, IA.
Other cracker trends include vegan products, new shapes and unique tastes.
"People are looking for pita chips, different flavors of crackers. I think we are a little ahead of it—we are only ones that make Caramel Onion and Applewood Smoked crackers," says Payne of Potter's Crackers. "And we are trying out Honey Sunny and Apple Sage."
Innovative New Products
In the cracker category, there is a market for new flavors that range from sweet to savory to spicy. Cranberry, Sweet Onion, Rosemary, Hazelnut, Roasted Garlic, Cracked Black Pepper and Everything are some of the mouthwatering flavors.
UK-based Mintel reports that, in 2022, cracker brands are emphasizing wholegrain and vegetable ingredients. For example, Venus Wafers makes wheat-based crackers and is preparing a whole new category.
"You've seen Hippeas, Veggie Straws—those type of snacks are low carb, made with healthy ingredients. We have developed a brand we'll premiere in late fourth quarter 2022," says Anderko of Venus Wafers.
Crostini, baguette bites, cheese crisps and other new formats are gaining traction. Partners Crackers has a vegan cheddar cracker that is tangy and flavorful with no after-taste. Potter's Crackers has rolled out oyster crackers (sold in the grocery aisle). These snackable sourdough bread bites replace croutons.
"They are made from high-end whole graham flour—it almost smells like a brewery. Whole Foods carries them now. We do four flavors: Wisconsin Cheddar, Classic White, Rosemary Thyme and Applewood Smoked," says Payne of Potter's Crackers.
Classic and nostalgic flavors remain popular. Valley Lahvosh follows recipes developed 100 years ago and creates new products, as well. "Our new mini has a little sea salt, so there is a slight flavor to it. It is kind of straddling the old and new," says Bonsignore of Valley Lahvosh.
A Cracker Destination
High-quality crackers complement cheeses. By displaying crackers and cheese together, supermarkets can create the deli a cracker destination.
"Consumers are looking for innovations and nice flavor pairings you can't get in the grocery aisle," says Payne of Potter's Crackers.
Retailers including Kroger's and Albertson's have large cheese shops in the deli. A cracker wall or a free standing unit with groupings of crackers pairs well with it. "People will always be looking for cheese first, and that requires a bigger selection, which is why a cracker wall works," says Figgins of Partners Crackers.
For consumers seeking convenience, snack packs abound in the deli and can satisfy consumers working from home and on-the-go. La Panzanella crackers are included in Oceanside, CA-based Olli Salumeria's snack packs, and in Hayward, CA-based Columbus Meats' pre-selected charcuterie trays.
While cookies lend themselves to specific holiday flavors, crackers may not. "We haven't gotten any bites on doing something different for Halloween. Pumpkin spice maybe, but it is hard with a cracker to make a sweet one. The sugar bakes right out," says Anderko of Venus Wafers.
But in-store sampling, which is starting to return, provides an opportunity to showcase new snacking combinations. "With our crackers, the flavor profile is very mild, so literally any kind of jam would work on our cracker. Newer jams that would work include fig and lingonberry," says Bonsignore of Valley Lahvosh.
Successful Cross Merchandising
Crackers can be cross merchandised with soups and salads, or nacho and pizza ingredients at the deli. This allows consumers to easily plan menus for home cooking.
For example, Partners' crispy cornbread crackers can pair with many foods.
"We all like the taste of cornbread, and this is the taste of that made into a cracker. It would go great with chili, salsa, guacamole," says Figgins of Partners Crackers.
Another cross merchandising technique is creating holiday cracker selections and showcasing them on floorstands or shippers.
"Say the deli carries our water and multigrain crackers—we then add a third flavor they don't carry (i.e., cracked black pepper or herb vegetable). This gives the consumer a 30% savings. The box doesn't scream 'holiday season,' but it is a little different, and we can sell it into January. They basically use the same box but add a snowflake," says Anderko of Venus Wafers.
Deli crackers can also be cross merchandised in the wine aisle. La Panzanella had a holiday entertaining promotion with a wine partner. "We utilized our rack signage and wine bottle neck signs to promote the deal with a coupon that drove people to the deli to pick up the cheese," says Lorenz of La Panzanella.
Marketing and Merchandising
Marketing, merchandising and promotions increase cracker sales. IRI Worldwide reports that for the four weeks ending July 10, 2022, nearly 50% of cracker sales came from promotional activity including sales and coupons. Digital offers and coupons can be offered online and via mobile apps. Cracker companies can also invest in SEM (Search engine marketing) on retailer-specific sites.
Social media can be leveraged to engage consumers. "We like to use influencers to showcase how Croccantini and Raincoast Crisps can be used for elevated snacking or as a part of a beautiful cheese board presentation," says Lorenz.
Smart marketing may mean freshening up a brand of crackers. Venus Wafers is updating its brands and packaging and will announce changes at the Fancy Food Show in January 2023.
Display tactics make a difference, too. Grocers may stack crackers on cheese cases, endcaps or freestanding tables in the deli. "But with some small metal racks or risers, it could increase the visibility of the crackers and draw attention to the selection. It might also allow some additional opportunities for signage," says Lorenz.
Cracker Packaging
Deli crackers tend to have long shelf lives. Valley Lahvosh crackers, which are bubbly and have a nice bite, have an 18-month shelf life.
"Some crackers can have oils that can make them turn the taste. Everybody probably has their own packaging to make their own crackers last longer. Lahvosh is pretty sturdy and holds up well," says Bonsignore of Valley Lahvosh.
Packages that reseal are trending. These meet consumer demand for convenience and product longevity. La Panzanella's mini Croccantini package has a peel and reseal top.
"For sure we've seen the resealable trend across other cracker products, typically in the untopped offerings, with stand-up reclosable pouches," says Lorenz of La Panzanella.
But some cracker companies focus on environmentally-friendly packaging instead.
"If you use all natural and clean ingredients, you don't really need to improve shelf life. What we do is a basic thin layer of plastic in a cardboard box. The paper is recyclable, the plastic film is recyclable. Between the film and the box, you get perfect moisture barriers," says Figgins of Partners Crackers.