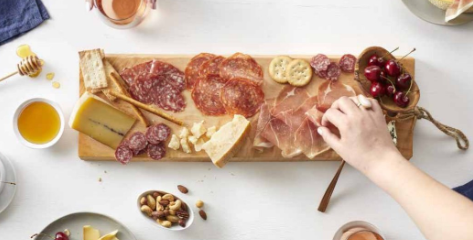 Specialty deli meats have gone mainstream. Boosted by television food shows and online foodie culture, interest in charcuterie featuring specialty deli meats grew sharply during the COVID-19 pandemic when consumers were searching for simple pleasures to enjoy. Once tried, charcuterie soon became a favorite.
"It's just taken off," says Lorenza Pasetti, CEO of Volpi Foods, based in St. Louis, MO. "You see people putting charcuterie boards on Instagram and Pinterest, and that's obviously great from where we stand. From our perspective, because we've been doing this for over 120 years, right here in the USA, it is nice to see the excitement, especially with the younger generation. It's taking what we do, which is part art and part science, to a whole new level."
Tapping Into the Charcuterie Lifestyle
Specialty deli meat and charcuterie go hand in hand.
"Deli meat is a key item of the Italian aperitivo, the most popular way in Italy to kick off a night out with friends or to even enjoy an easy, light alternative to a restaurant dinner," says Emanuela Bigi, marketing manager of Logan Township, NJ-based Veroni. "What is deemed a well-rooted tradition in Italy now is becoming a trend in the U.S., with more attention paid to the quality of the products, including authentic Italian charcuterie."
Oliviero Colmignoli, president and owner, Olli Salumeria, Oceanside, CA, says online searches about charcuterie grew nearly 300% in 2021 in the middle of the pandemic, and momentum has remained strong for charcuterie boards and grazing platters that encourage "a lighter, less entrée-focused approach to meals."
"With increased appetite for charcuterie, people are eager for ways to make authentic charcuterie convenient for group gatherings," Colmignoli says.
Consequently, producers such as Olli Salumeria, Moonachie, NJ-based Parmacotto, Veroni and Volpi are offering a variety of products designed especially for use on charcuterie boards. Pasetti says some of Volpi's most successful new products are combinations of meats readymade for a charcuterie board, and Alessandro Sita, CEO of Parmacotto, says Parmacotto is introducing a new line of packaging called the "selection line" in the style of a take-away tray. Customers peel the package open, and Sita says, "It's ready to put on the table."
Similarly, Olli Salumeria launched its line of Olli Anitpasto Trays, which offer ready-to-serve charcuterie in a resealable tray, and Veroni's best-performing product in 2022 was a charcuterie platter.
Because of the interest in charcuterie, Bigi says, "Charcuterie pairings are a good strategy for cross merchandising. Indeed, deli meats with cheese, bread or also wine create ideas and solutions at the point of purchase. Product description and pairing signage for new and unique items are, indeed, especially impactful."
Sita says Parmacotto's marketing and merchandising pushes its products' fit in the happy hour or general entertaining climate and charcuterie's inherently festive quality.
"We feel these are perfect products to have when you gather with people, no matter the occasion," Sita says. "And we try to present it with pairings and to provide steps for consumers for how to pair it with different drinks and to try different things. We see really good responses from that because people can bring their own ingredients and personalities to it, so it makes things very fun."
Feeding A Snacking Appetite
Colmignoli says the popularity of charcuterie plates helped open consumers' eyes to specialty deli meats' potential as simple snack food.
"As more consumers were introduced to the robust flavor of salami, artisanal cheese and other charcuterie favorites, there is interest in enjoying these foods in portable snack form," Colmignoli says. "As a result, the main trend that we're seeing in recent years is an increased demand for convenience in deli meats."
To take advantage of the snacking trend, Pasetti says, producers must offer options for customers that are healthy, high in protein and make snacking easy.
"Whether it's portioned or sliced or with complementary pairings, our mission is to make it very conveniently packaged and in eco-friendly packaging," Pasetti says.
With consumer interest in snacking in mind, Olli Salumeria recently expanded its line of salami and cheese snack packs, which come in grab-and-go single-serving sizes.
"The increasing consumer demand for convenient salami and other specialty deli meats in recent years has led to new packaging innovations that encourage portability," Colmignoli says.
Similarly, Parmacotto is launching a smaller-sized grab-and-go packaging that emphasizes ease of use for customers.
"We realize that people are on the go, and they have no time, so we came out with this line where with the packaging, we have a product that is ready to go," Sita says. "Convenience is very, very important here in the United States."
Grab-and-go snack items complement the larger charcuterie-focused offerings.
"We're seeing a demand increase in grab-and-go items since consumers choose them as an option for an easy, quick-to-prepare lunchbox," Bigi says. "If on one hand, American consumers seek charcuterie snacks that come in practical packs featuring a single-size portion of meat paired with cheese, dried fruit and crackers, on the other hand they find a large tray of charcuterie a good idea for their home gatherings."
Emphasizing Quality
An emphasis for specialty deli meat producers is conveying products' premium quality to customers. For instance, Parmacotto, which originates in Parma, Italy and has been building its presence in the U.S. in recent years, emphasizes that it makes premium meats made with a very short list of ingredients.
"We're trying to translate that concept here in the United States," Sita says. "We really see a lot of growth in premium quality products in the U.S. After COVID-19, there was a shift. I think people had a lot of fun looking to try new things, and there was more interest in the consumption of high-end, high-quality products."
Like Parmacotto, Veroni, Volpi and Olli Salumeria emphasize the quality of ingredients and of the curing process to customers. For instance, Colmignoli notes that Olli Salumeria has the industry's first preservative-free salami line, eliminating the use of nitrates and nitrites in the curing process.
As part of that focus on quality, Volpi developed a responsibly raised program, working with academics and farmers to develop a set of criteria that vendors who partner with the Volpi brand must meet. In addition, Volpi implemented eco-friendly, sustainable packaging that uses a paper-based film, reducing the company's usage of plastic.
Pasetti believes customers increasingly respond to authentic brands that demonstrate a commitment to sustainability in their products.
"I think that the consumer today wants transparency in their food supply, and they want to understand the story behind a brand," Pasetti says. "Many stories are fabricated, ours is not."
Serving Suggestions
Pasetti says specialty deli meats' status as a still-emerging food for a widespread audience means both producers and retailers need to commit to educating customers and helping them feel comfortable with the many ways they can serve the products.
"In our niche in the United States, there has to be an educational component to it, because Americans didn't grow up consuming these products," Pasetti says. "There's a bit of hesitancy when you're trying something new and different. So, I think that the more we can ease the transition, and educate, like putting out recipes and ideas for usage, the better."
Pasetti says recipes used to engage customers largely should be accessible and uncomplicated. In some cases, they can be as simple as substituting a specialty deli meat into a classic dish, such as replacing bacon in a recipe with pancetta or guanciale.
"When you can offer easy recipes that will make the person that's cooking look really good, that's great," Pasetti says. "I think the key is that you want to provide them with simple recipes with nutritious foods that can elevate the dining experience and provide a sense of joy to elevate the eating experience in their home."
Consumers are always hungry for new ways to enjoy these foods.
"At Olli Salumeria, we continually provide compelling new serving suggestions, flavor pairings, recipes and usage ideas on our website and social media pages that encourage customers to enjoy more of the salami they already love," Colmignoli says. "Similarly, retailers can take advantage of the versatility—and long shelf life—of salami by expanding displays beyond the refrigerated deli section. Secondary displays in other store sections that are classic salami pairings, such as crackers, cheese or wine, are an effective way of reminding customers about the possibilities of salami."
Social media is a crucial avenue for outreach to today's consumers, particularly young ones who are showing interest in trying specialty deli meats in a variety of ways.
"We've seen a lot of response on social media platforms to putting recipes and that kind of information out there," Pasetti says.
Retailers can use high-quality deli meats fit for both snacking and entertaining in the way they engage customers with serving suggestions.
"Beyond secondary displays, retailers can also take advantage of the year-round appeal of salami by promotions, limited time offerss and displays that position salami and charcuterie as the perfect snack for group gatherings timed to key events and seasons throughout the year, such as tailgate parties, summer barbecues or holiday gatherings," Colmignoli says. "Customers are actively looking for interesting new ways to enjoy specialty deli meats, so unique pairing suggestions, cross merchandising and themed displays can help motivate trial and keep customers coming back for more of what they already love."
Ultimately, customers are showing an openness and enthusiasm for specialty deli meats that producers say favors a strong future for the segment.
"People are more willing to explore new things," Sita says, "and that's a good thing."