Cooking at home has been the theme of 2020, and consumers are collecting recipes to make restaurant-quality meals in their own kitchens, including delicious appetizers and side dishes.
That's where flavorful dips and spreads come in.
"Flavor and quality separate those found in the deli department from the grocery aisle," says Marci Needham, consumer specialist of Ventura Foods, based in Brea, CA. "The dips in the grocery aisle tend to be more processed and heat-treated where deli dips tend to have more fresh ingredients included and a higher quality base and creamy substance."
Ventura Foods' biggest offerings in these categories include Dean's Dips with the French Onion flavor driving the largest percentage of the category.
Needham adds that within dips, spreads and jams, she is seeing a lot of flavor emergence and packaging innovation as many manufactures launch things like a chocolate or other flavored hummus.
There's also a lot of plant-based dips and spreads being introduced to the segment, including things like a whipped nut base to drive their creaminess and a huge growth in ethnic flavors in the space, such as tzatziki.
"Within the peanut butter category, we have seen portion control become a new segment of the category that is appealing to the busy parent or the person looking to eat a protein source on the go," says Needham. "The dips category experienced a surge as the pandemic broke out, and chips were listed as an essential item by retailers."
Mandy Bottomlee, director of content marketing for Pleasant Prairie, WI-based Good Foods Group, notes as snacking frequency continues to grow, consumers are becoming more conscious of how they're snacking and are favoring clean ingredients, clean labels and free-from artificial ingredients.
"Consumers are favoring clean ingredients and labels. While they still love the classic flavors like French onion and Ranch, they are seeking more innovative flavors like Tzatziki and diet-based options like plant based," she says. "Additionally, the amount of meals and snacks consumed at home has been accelerated by the pandemic. There is only room for this category to grow."
Terrapin Ridge Farms, headquartered in Clearwater, FL, offers gourmet mustards, dressings, sauces, dips, jams & jellies and salsas, all of which can turn any meal into a gourmet occasion. And all of these products can be found in the supermarket deli section.
Caitlin Morrison, brand manager for Reser's Fine Foods, headquartered in Beaverton, OR, notes cheese boards are a trend that lend well to dairy dips.
"Dips and spreads pair perfectly with olives, meats and crackers, and cheese boards are easy to put together for a no-cook meal," she says. "It adds creativity and options for both snacking and meal variety that consumers have sought in 2020. We're continually impressed with the variety of ways consumer use dips to create simple to decadent board presentations."
She's noticed ethnic-inspired dips and complementary flavor combinations also continuing to be popular in 2020.
Morrison shares that the company's Stonemill Kitchens will be launching two items nationwide in spring 2021—new Roasted Street Corn, a dip inspired by Mexican Street Corn, and Garlic & Herb Feta.
"There is always innovation in the dip category where consumers can try the latest and unique flavor combinations, particularly during the holidays," says Morrison. "Specialty cheese, dessert dips, and sweet and spicy flavors profiles are a few examples."
Giselle Olson, associate brand manager of the Herdez brand of dips and salsas under the Austin, MN-based MegaMix Foods umbrella, notes given the U.S.'s continued love for avocados, she's noticed the demand for this fruit continues to rise.
"Moreover, convenience/pre-made products remain the name of the game for busy consumers today as they are experiencing burnout from having to cook so much more, since people are eating at home more now than ever," she says. "While we see consumers value fresh and authentic foods, convenience remains extremely important these days. With that, this is a recipe that has fueled the rapid expansion of prepared guacamole."
To meet the demand, Herdez launched a line of ready-made guacamole made with only simple ingredients, bringing the authentic flavors of Mexico to a ready-to-eat format that means less time prepping and more time dipping.
"COVID has transformed the way the world eats," says Olson. "We're seeing consumers gravitate toward comfort foods and foods that help build their immune system. It turns out avocado toast and guacamole are proving to be stay-at-home favorites."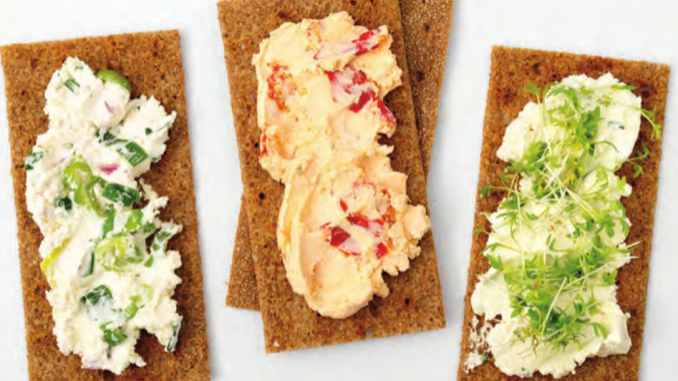 Getting Through the Pandemic
The dips category has seen a lot of growth during COVID as dips are both a convenient and a comfort food snack. The range of varieties and applications help overcome consumers' food boredom when they are eating more meals at home.
Clare O'Donnell, marketing manager for Terrapin Ridge Farms, notes due to the pandemic, stores are no longer able to demo products so the deli departments must rely on savvy merchandising and marketing to improve sales of dips and spreads.
"Sampling is hard with restrictions and consumer hesitations. To combat this problem, we've come up with several beautiful counter signs that include recipes or 'How-Tos,'" says O'Donnell. "For example, we have a sign that includes a picture of a charcuterie being built. Along with the sign is a flyer detailing 'How to Make a Charcuterie Board," which includes our dips and spreads."
According to Needham, the dip category has done well through COVID as consumers looked to enjoy comforting foods.
"This includes a classic potato chip and dip," she says. "In terms of spreads and jam, we have seen peanut butter and jam/jelly explode as people sought to have easy solutions as they shelter in place. A classic combination that, again, is comforting."
Marketing/Merchandising Matters
In 2020, Terrapin Ridge Farms released new 4-ounce jars of Hot Pepper Bacon Jam and Raspberry Honey Mustard Pretzel Dip.
"Our November promotion was for every $400 purchased, retailers received a case ($48 value) of our new 4-ounce-size jars," says O'Donnell. "They could use this as incentive for giveaways, gifts with purchase, personal samples or easy add-on sales."
Terrapin Ridge Farms also developed shelf-talkers that explain uses for the product and recipe pads, believing pictures, signs, recipes and suggestions all help the customer imagine how they would use the product and what it tastes like.
Needham suggests delis offer dual placement with a full set of deli dips but then also a secondary display that features them with a likely host food. This will drive people to the products and increase sales.
Good Foods Group's top-selling items are its plant-based queso, followed by Buffalo and Tzatziki plant based dips.
"Consumers love the taste and simple ingredient decks, and we are seeing this reflected in sales, social media and nearly 2,000+ searches daily on our store locator for our plant-based dips," says Bottomlee. "Seeing the success of our dips, we're continuing to develop new flavorful line extensions, while also expanding to new size formats to support different consumption needs."
For the holiday season, the company launched its on trend Spinach Artichoke Parmesan dip.
"Used as an appetizer or in recipes like stuffed chicken and scalloped potatoes, the Spinach Artichoke Parmesan dip is available just in time for the holidays," she says. "Made in the proud cheese state of Wisconsin, the Parmesan cheese within this dip is sourced from third-generation Wisconsin cheesemakers."
At Good Foods, the company utilizes multi-faceted marketing strategies, such as retailer promotions aligned with strategic marketing campaigns to drive awareness, interest and foot traffic in stores.
"For example our 'Guactoberfest' campaign was developed to celebrate guacamole during the month of October by showing unique meal and snack ideas that remind the consumer that guacamole is so much more than just a dip," says Bottomlee.
There are several ways merchandisers can highlight this good-for-you category at retail, she adds. For example, joint instant redeemable coupons or digital coupons that shoppers are able to take advantage of in stores are a great way to merchandise.
"Implementing social media and cross promotions with other snacking brands also helps drive brand discovery and reach new audiences across multiple aisles of the store," says Bottomlee.
Morrison notes signage and POS can be utilized to cross merchandise dips with items that pair well such as crackers, meats, jam and olives.
Cracking Up
While dips and spreads are selling strong, supermarket delis can find some profit in selling dip accompaniments, such as gourmet crackers.
James R. Anderko, vice president sales and marketing for Venus Wafers, Inc., a Hingham, MA-based chip and cracker company, says its line of high-quality, natural crackers has sold strong throughout the pandemic, and it follows the trend of higher dip sales.
"Organic is trending, non-GMO, and vegan are all very popular, and all of our crackers are vegan," he says. "We've seen an uptick in the category overall. In the beginning, we were slammed, then it tailed off a bit, but with the holidays approaching, we expect to stay busy. That's always the busiest time of year for us. Even without people planning large parties, they still will be entertaining."
The company just introduced a new sourdough cracker and found that people were interested in that once the pandemic hit. It also released a mini flatbread that has sold well.
"We have new stuff all the time, but our mainstays have paved the way and always sell strong around the holidays," says Anderko. "We have a wide range of crackers, some are good for hummus, some with flavorful spreads. It's all about what consumers are looking for."
To the Holidays and Beyond
Carl H. Cappelli, senior vice president of sales and business development for Schwenksville, PA-based Don's Prepared Foods, notes the holidays are an extremely important time for the dip category, and not just Thanksgiving, Christmas and New Year's, but also the Super Bowl, because people love dips with sports.
"It's fun, communal and fosters togetherness," he says. "Food, family and fun is very important right now with what's happening in the world."
For the holiday season, the company has several new products coming out, including Cranberry Cream Cheese, Pumpkin Pie Cream Cheese and Pumpkin Pie Mousse.
Ventura Foods will be launching new flavors in 2021 to meet evolving consumer flavor needs, and Needham notes the bold flavors come from what the company has seen growing on menus in foodservice. "For the holidays, it could be good to consider talking about classic flavors and nostalgic memories," she says. "If a deli is packing off by the pound, I would recommend doing smaller packs, as we are likely going to have a lot fewer people in our homes for the celebrations we traditionally have this holiday season." DB