Deli meats, such as dry-cured pork and smoked sausages, have enjoyed a place at the table since Roman times. In fact, according to stone tablets displayed in the Museo Civico Archeologico in Bologna, Italy, mortadella fueled the Roman army.
Today, across the pond, deli meats are a staple in supermarket delis throughout the U.S. In fact, deli meats represented 21% of total department dollar sales for the period from March 8 to Nov. 6, 2020, according to Chicago, IL-based IRI Total U.S. multioutlet data. What's more, dollar sales during this time were up 11.5%, second only to deli cheese, and ahead of deli prepared foods.
"The two areas of transformation in the deli over the next three years will be in deli meats and cheeses and prepared foods," says Chris DuBois, senior vice president of Protein Practice for IRI. "For deli meats, the category has grown steadily 1% to 3% annually, with packaged lunch meats especially taking off recently with increased retail versus foodservice purchases due to COVID. Looking ahead, there will be new buyers coming in, and deli operators who can take advantage of this and market to these buyers as quickly as possible will have the best success. Key to this is having a plan that can be constantly adjusted and updated."
While not carved in stone, here are the top trends expected to drive the deli meat category in 2021.
1. HOME COOKING IS THE NEW NORMAL
The importance of the deli meat category continues to rise as the stay-at-home economy has resulted in a significant uptick in meals prepared at home, according to Terence Martin, vice president of retail sales for D'Artagnan, LLC, in Union, NJ. "As our retail partners have seen declines in their prepared food departments, deli meats have served as a critical category for both lunch and dinner occasions."
More than half (54%) of Americans surveyed said they were cooking more at home, according to results of a poll released in April 2020 by New York-based Hunter Public Relations. Of these, over half (51%) said they will continue to cook more often even when the COVID-19 pandemic ends.
"Since only one-quarter of American school-aged children are being taught fully in person as of the end of September and many families are not taking advantage of free meal programs, buying habits have shifted towards more lunch and snack options, says Hilary Gerard, retail beef brand manager for the Wichita, KS-based protein division of Minneapolis-headquartered Cargill Inc. "We partnered with Buzzfeed during the midst of the pandemic to develop a series of videos showcasing the versatility of our Castle Wood Reserve deli meats. It was important for us to show them how our product could be used across a variety of different meal types and dayparts."
Deli meat flavor innovation will be in high demand in 2021, Gerard adds. "Finding ways to add variety and variation to standard lunch meat will help consumers break from traditional mealtime ruts. As such, we've had success with our recently introduced line of bulk deli meats, including Sweet Kentucky Bourbon Ham, Chile Lime Turkey and Hawaiian BBQ chicken, that is continuing to drive deli growth in retail," she says.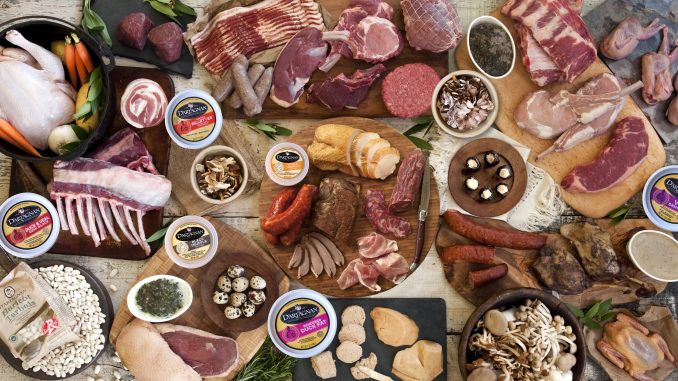 2. PREMIUMIZATION HITS A HIGH-END NOTE
The closures and curtailments in the restaurant arena in the wake of the COVID-19 pandemic has consumers craving the flavors of more upscale dining experiences.
"We saw this in the summer when retailers, including those that hadn't stocked our product before, told us they needed to order some of authentic imported German brats and salamis," says Claas Abraham, CEO and president of Abraham of North American, in Towaco, NJ. "Consumers want to trade up to a higher quality when eating at home."
Italian-style dry-cured meats have grown robustly in recent years and continue to do so, according to Simone Bocchini, president of Fratelli Beretta USA, Inc., in Mount Olive, NJ. "This highlights the need for retailers to study and correctly evaluate the assortment of products they carry in the deli and assure they give the necessary space to items that are growing right now due to demand and interest from the consumer."
Turkey, ham and roast beef are the three top-selling deli types of meat, according to the Madison, WI-headquartered International Dairy Deli Bakery Association's (IDDBA) What's In Store 2020. Yet, demand is poised to grow for upscaled counterparts of these staples.
"Our newest and most unique items are truffle turkey and Wagyu roast beef. The truffle turkey breast is artisanally made in small batches with whole turkey breast and real black truffles. This product contains no nitrates, nitrites, artificial ingredients or colorings. Our Wagyu roast beef comes from the only ranch solely owned by a woman, in Texas, whose pure Wagyu cattle are raised for three full years following a 'never ever antibiotic' program. This results in a clean and incredibly marbled roast. Our best-selling deli item is our Berkshire ham. This particular breed of pork provides an amazing taste experience and marbling that is unrivaled in traditional ham products," says D'Artagnan's Martin.
3. HEALTH DRIVES NEW PRODUCT DEVELOPMENT
Over three-fourths (85%) of Americans have changed the way they eat and/or prepare foods due to the COVID-19 pandemic, according to the Washington, D.C.-headquartered International Food Information Council's (IFIC) 2020 Food & Health Survey, released in April. Concurrently, over half (54%) of consumers say healthful food choices matter more than a decade ago.
"We see people at home now and trying to eat healthier," says Jaline Isidor Horta, digital marketing director for Cibao Meat Products, in Rockaway, NJ. "To many peoples' surprise, our Pavolami is 100% turkey, and we consider it goes with a healthy lifestyle as well as our Don Filo line of products. We have our Don Filo Turkey Ham, Don Filo Chicken and Don Filo Arenquelami, which consist of herring."
The plant-based food trend is poised to continue, according to the October-released top 10 anticipated foods trends for 2021, by retailer Whole Foods Market, a 500-plus store chain headquartered in Austin, TX.
"A new item that is in its final stages of development is a vegetarian salami. Our research and development team has been rigorously working to develop a product that is still true to our tradition and quality and delivers amazing taste," says Cibao's Horta.
4. THE NEED FOR SPEED POPULARIZES PRE-SLICED
The COVID-19 pandemic has created an interesting dynamic in the deli department that will continue, says Fratelli Beretta's Bocchini. That is, "pre-packaged meats have seen great growth compared to traditional behind the glass items. This is due to convenience and long shelf life, which allows for faster shopping trips with minimal interaction."
Pre-sliced deli meats represented 9.8% of category dollar sales, up 25.5% since March, according to IRI data. Similarly, grab-and-go deli meats tallied 25.1% of dollars, up 61.1%, while service deli meat rounded out the category at 65% of sales, down 1.8%.
"Pre-slice is exploding in the U.S., whether it's for domestic or imported deli meats," says Carrie Blakeman, managing director of the Rogers Collection, in Yarmouth, ME. "For example, Iberico chorizo and serrano, meats that have traditionally been sliced to order are all now available in pre-sliced thanks to packaging technology that maintains safety, quality and flavor. One way to maintain that Old World feel in merchandising is to display a nostalgic or black-and-white photo or poster of a deli attendant with a product at the slicer in the back of the case with the pre-sliced product in front."
In June of this year, St. Louis-headquartered Volpi Foods transitioned its entire line of pre-sliced products to a more environmentally friendly 70% less plastic package. The extensive line includes sliced bresaola, capicola, mortadella, salami and sopressa.
5. THERE'S NO SLOW-DOWN ON SNACKING
Over one-quarter (26%) of U.S. consumers snack multiple times daily, with more than one-third (38%) replacing meals like lunch with snacks at least occasionally, according to the IFIC 2020 Food & Health Survey.
"While a lot of snacking brands and product lines are merchandised in the packaged lunchmeat section of retail, we have also seen that snacking solutions in the full-service deli can service a different consumer and motivate purchase," says Cargill's Gerard. That said, "while we saw retailers shift focus away from protein adult snacking solutions last spring during the nationwide stay-at-home orders, we have seen snacking numbers increase through the summer and into early fall. We see an opportunity to continue to bring innovations and offerings to consumers in this space."
To target this customer, Volpi Foods recently launched a new line of single-serve products named Small Bites, says Deanna Depke, marketing manager. "This is just in time for those socially distant, smaller holiday gatherings everyone will be having this year. Each pack features 1.5-ounces of our thinly sliced charcuterie items like Prosciutto, Coppa, Soppressata and Spicy Soppressata that allow consumers to explore new charcuterie varietals without breaking the bank."
6. RTE & DYI = CHARCUTERIE 2.0
The foodservice menu penetration of charcuterie grew from 0.7% in 2009 to 3.4% in 2019, according to the IDDBA's What's In Store 2020. Now, this segment is taking a bite into the retail deli's footprint in two ways: ready to eat products and meal kit-style do-it-yourself options consumers can prepare at home.
"Charcuterie will continue its growth as it remains on trend for high quality, flavorful, convenient meal solutions suitable for snacking, sandwiches and easy at-home entertaining," says Al Adelson, vice president of sales for Veroni USA, in Swedesboro, NJ. For example, "we recently launched our innovative Veroni Aperitime (Aperitivo Time) trays. Each has five components with tasty combinations of salame, prosciutto, almonds, cheese and dried fruit, that can serve two or three people."
Similarly, Fratelli Beretta has introduced its new four-items line of La Dolce Vita Entertainment Trays. Two assortments of these 12-ounce trays are the Artisan Charcuterie Tray: Soppressata, Hot Soppressata, Black Pitted Olives, Artisanal Flatbread, Provolone Cubed Cheese, Pepperjack Cubed Cheese; and Roll & Go Platter: Prosciutto & Mozzarella, Soppressata & Mozzarella, Milano & Mozzarella, Roasted Almond, Mixed Pitted Green Olives, Breadsticks.
Deli operators can take a page out of the popularity of meal kits to create ready-to-assemble charcuterie platter kits.
"This is a great opportunity for delis to create signature, seasonal, customized charcuterie kits that contain right-sized amounts of meats, cheeses, jams and other items that pair well and that customers can assemble themselves at home," says the Rogers Collections' Blakeman.
7. RETAIL & E-TAIL ARE THE FUTURE
Customers haven't abandoned in-store buying in the era of COVID. However, online shopping is picking up and sticking as a grocery-stocking behavior. In fact, food and beverage e-commerce revenues at retail tallied over $15 billion in 2020, and are projected to surpass the $20 billion mark in the next three years, according to the 2020-released report, U.S. Online Grocery Retail, by Hamburg, Germany-headquartered market research firm, Statista, with U.S. offices in New York.
In-store, "dedicate more space to grab-and-go and high-quality pre-sliced meats. Broaden the range of products to include more charcuterie, regional, seasonal and good-for-you offerings. Focus on the grab-and-go display. Signage, dividers, product descriptors, branded packaging, etc. Like the bulk deli case, it's important to create a destination and make a statement. Since there is no personal interaction, the customer must have the information they need to make their purchase decisions. This same mindset is important for delivering content to the growing number of online shoppers," says Veroni USA's Adelson.
Businesses that have or are creating a strong online order presence for their products, says Nelson Gaydos, outreach specialist for the Elizabethtown, PA-based American Association of Meat Processors, "are thriving."The prevalence of online shopping is now making it even more important for brands, manufacturers and retailers to ensure they have strong online content, says Cargill's Gerard. "The digital shelf is different and more dynamic than the traditional retail shelf. Going forward, as more and more consumers shift to either order online/pick-up in-store or delivery methods for grocery shopping, it will be imperative that retail deli products are properly represented and showcased to help capture these digitally-savvy consumers." DB