For those doubtful about how lucrative the tailgating market can be, the numbers speak for themselves.
One University of Minnesota study estimates that 18 percent of fans tailgate before games, yet there's room for improvement, with more than 17 million attending regular-season NFL games and almost 74 million attending Major League Baseball games. Plus, a recent study by DirecTV estimates that NFL fans spend almost $200 for each tailgate party.
"In addition to cheering their teams on in person, more sports fans are choosing to watch their favorite teams with friends and family at home, according to offers.com's 2018 Tailgate Spending survey," says Brenda Killingsworth, senior trade marketing manager, Reser's Fine Foods, Beaverton, OR. "This movement towards 'Tablegating' is as food-centric as traditional tailgating, where the food is nearly as important as the game/match/race itself. We are also seeing more Millennials participating in tailgating and tablegating than ever before, as college football is edging out NFL games as the most popular, according to recent surveys."
The Evolution of Tailgating
Tailgating has evolved since it reportedly began in 1869 at the first American football game between Princeton and Rutgers Universities, although Yale University lays claim to the tradition, which it says it began in 1904.
It is not only professional or college games that are involved in this eating/socializing tradition.
"It's kids' sports with parents watching, weeknight tailgating for travel and high school games and elevated recipes on Sundays," says Kevin Rider, brand manager at Panos Brands, based in Rochelle Parks, NJ. "We're seeing more people 'homegating' or having people over and taking recipes to the next level."
"It's not just hot dogs and burgers on the grill or lunchmeats out of the cooler anymore," says Tom Orlando, national sales director, Conroy Foods, Pittsburgh, PA.
According to Valerie Liu, marketing manager for Jarlsberg Cheese, distributed by Norseland, located in Darien, CT, supermarket delis' tailgating offerings have evolved tremendously over the years, featuring more displays and ideas, microsites, events and coupons.
"Consumers want convenience food, and supermarket deli items are naturally an important destination for tailgating because of the limited prep time needed for these items," says Liu. "For convenience, people can even forgo the grill and pick up pre-packaged items like fruit salad, deli meats and Jarlsberg cheese wedges and snacks for a quick meal or easy snacking."
Deli trays and salads have become tailgating staples.
"For game day, parties and gatherings, trays come in handy," says Carl H. Cappelli, senior vice president of sales and business development, at Don's Foods, based in Schwenksville, PA. "Millennials want flavor, globally-inspired edgy cool stuff, but they don't want to prepare it; they mainly want convenience."
Don's Foods offers all-natural traditional deli salads available in bulk and cups for grab and go.
"Delis can sell sides by the pound in the deli case or pair them with meats or entrées, enabling retailers to include these in meal kits and as a part of meal solutions," says Cappelli.
Reser's Killingsworth has noted an increase in ethnic and spicy products geared toward tailgating as well as chicken wings and mac and cheese.
"Deli catering menus have expanded beyond the holidays to target tailgating trays," she says. "Staff dresses up the deli with football-themed point of sale as well as adding suggestions for tailgating on their websites and using social media to reach out to shoppers."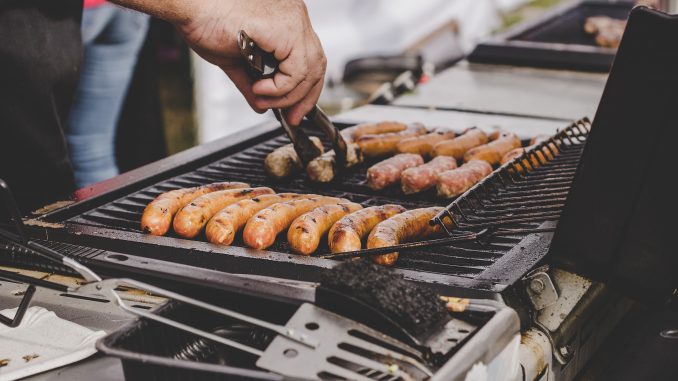 Success is in the Selection
When creating a tailgating section in the deli, it's necessary to think outside the box, as the foods geared for this increasingly popular activity have greatly expanded to become much more diverse.
Manufacturers provide a variety of options. For example, Panos has ramped up its offerings with grab and go Cheddar, Colby Jack and Pepper Jack cheeses in 2-ounce bars for snacking.
"One of our newest items is melting cheese, with ingredients that are very clean and can be used for making tailgating items," says Rider at Panos Brands. "Tailgaters are bringing crock pots to keep queso hot, using different ingredients and highlighting unique recipes."
The menu of foods for this activity also is contingent upon how the tailgater is equipped. For example, do they have a grill or just a cooler?
Conroy Foods offers a number of items for tailgaters, including Deli and Pineapple Honey Mustards, Original Submarine dressing, All-American sauce, Buffalo and wing sauces and horseradish sauce.
"We have found that consumers love flavorful finger foods that are easy to make and fun to eat," says Liu at Jarlsberg. "Convenience is also important. With its mild, nutty taste and versatility, Jarlsberg cheese is perfect for all types of tailgating recipes, such as cheese boards, burgers, kabobs, nachos or Jarlsberg fondue with chorizo. Now we also have Jarlsberg Cheese Snacks that are easy and portable snack ticks for anytime tailgating."
Jarlsberg recently expanded national distribution of its cheese snacks, portable cheese sticks with a mild, nutty taste. The individually-wrapped cheese sticks are ¾ ounces and are available in portion-controlled bags.
At Madison, WI-based Placon, the largest trend in tailgating is on the go convenience and expansion of grab and go food options. The company offers their HomeFresh Entrée product line to accommodate hot or cold meal solutions, including entrées or side dishes. These can be microwaved and come with vented or non-vented lid options.
"Being able to add value for customers is key with on the go convenience products," says Derek Skogen, Placon's marketing manager. "Our GoCubes product line offers a value by giving the customer a base to hold main ingredients and an insert option that keeps wet or dry ingredients separate until it's time to mix them together. The GoCube insert tray helps with portion control and to keep ingredients fresher for a longer period."
Don's Foods offers a dip tray that can be assembled on a larger food tray for tailgating displays.
"Tailgating trends are mirroring healthy eating trends," says Cappelli at Don's Foods. "There are opportunities for retailers year-round."
Crowd-pleasing foods that are relatively easy to prepare are ideal for a tailgate.
"Hosts who are looking to take it up a notch can serve items that are familiar with a flair by using products in more than one way," says Reser's Killingsworth. "Our Stonemill Kitchens Dips and Baja Cafe Salsas with chips or fresh veggies are a great way to get the party started. Fan favorites, such as our traditional Reser's potato salads, macaroni salads and cole slaw, are the perfect match for burgers, hot dogs or pulled pork sandwiches. Add some rich, creamy mac and cheese to the mix, and the tailgating feast is complete."
Merchandising the Goods
Success in tailgating is dependent on building enticing and applicable displays that draw consumer attention.
"Hot bars, charcuterie and olive bars for entertaining and building premade party platters are great, but I would love to see delis take prepared foods to the next level," says Rider at Panos Brands. "This can include more prepared cold meals, whether mac and cheese, queso dip or bean dip, that consumers can take with them, prep easily and serve."
Conroy Foods offers a tailgate shipper, which has a football-themed header and contains the Submarine, Horseradish, Deli Mustard and Wing sauces to compliment menu items.
"Placement of these shippers in the deli allows for one-stop shopping for events," says Orlando.
As for timing, it depends on the retailer's location. College area stores can start putting out tailgating displays in late August, while other regions can go by the NFL regular season, which starts in September. There is also an opportunity to merchandise tailgating and tablegating products all year long with other popular sports, such as NASCAR, which runs February through November.
"Campaigning early to let the consumer know you are their tailgate headquarters works well, and we have our shippers placed throughout the football season," says Orlando.
Supermarket delis can effectively merchandise foods geared for tailgating by showing how versatile many foods are.
"On our digital platforms, we offer fun recipes, cooking tips and coupons, which would be nice to see more of in stores," says Liu at Jarlsberg Cheese.
There are a number of ways to highlight tailgating that puts supermarket deli items in the spotlight.
"Delis should be smart about approaching this opportunity and not limit it to the NFL," says Eric LeBlanc, director of marketing at Springdale, AR-based Tyson Foods. "They can dress up the section with the local high school football team's colors on Friday night and then provide colored tortilla chips that match, which adds to the atmosphere. The more things you can do to give customers a reason to walk into your store, the better."
Convenience is Key
Emphasizing the convenience factor for tailgating parties also can lead to more profits in this segment.
"For example, it's easier for shoppers when delis use a container like a bucket for wings and let shoppers know they can pick these up already loaded in the hot case to go," says LeBlanc. "It's an extremely easy solution and convenient for grab and go."
More savvy retailers also include both hot and refrigerated tailgating options.
"The key to making this work is twofold—remind shoppers this is an option for them, for many it's not their first thought, so it's a communication challenge to get the message out," says LeBlanc. "In addition, when retailers put out buckets
or solutions on the hot bar for grab and go occasions, if they don't have an adequate movement of product, you'll have
crippling shrink."
For this reason, it's about building awareness and using all communication channels to drive awareness.
"The long approach is to tell no one, put tailgating items out and use signage," says LeBlanc. "The communication piece is the more important and difficult part of this. Retailers like Meijer, Safeway and Giant have game day type offerings, but these are consumer packaged goods, not prepared foods in the deli."
To drive awareness, LeBlanc recommends putting together a program preseason to remind customers that items will be available.
"If they activate these channels, they already have eyeballs with direct e-mail, their website and social media," says LeBlanc. "Start with low to medium production, as people get excited and more aware of what's available, then boost production and displays."
Manufacturers can provide assistance in taking tailgating foods to the next level.
"The two things we do for shoppers is give them the idea and make them want to do it," says LeBlanc. "For example, we suggest they take boneless wings and put celery and ranch dressing with it, then put it on sweet rolls to create a tray of sliders."
Bundling all tailgating foods together in the deli so these are in close proximity and easy for shoppers also is effective.
"Convenience continues to be important, so there is opportunity with offering consumers kits or party packs that are ready to assemble once they get to their tablegate or tailgate," says Killingsworth. "Offer curbside pick up or delivery to
the tailgate location on-site on game day and get savvy with digital messaging."
Getting the word out is key. DB
---