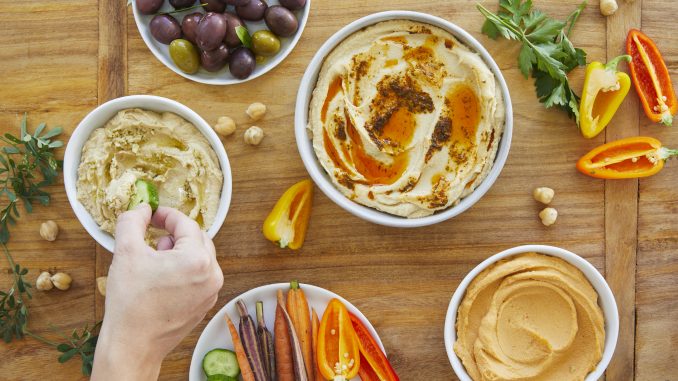 After all these decades, Mediterranean foods continue to be the flagship category in the deli.
But while venerable Mediterranean products remain vibrant and growing, the pandemic and its economic aftermath changed everything about what consumers want in the deli and how they want to purchase it.
The deli traces its roots back to the neighborhood markets that made familiar items available to Italian, Greek, Jewish and Middle Eastern immigrant commu- nities, and continues as a destination for consumers looking for fine foods that fit with a modern healthy lifestyle.
"We're more interested in Mediterranean foods because they align well with the new diets," says Greg Klein, chief marketing
officer at Lakeview Farms, Delphos, OH. "They have relatively simple ingredients and clean labels, and a lot of them are bean based, which is in demand."
Lakeview Farms started offering dips, desserts and specialty items in 1988 and has steadily expanded its ethnic offerings by acquiring Tribe Mediterranean Foods, Inc., Flan Rico Confectionery Inc., Luisa's and Simply Fresh Foods, Inc.
While vegetable-based dips, antipasti and other dishes benefit from the desire to reduce cholesterol and fat, authentic Mediterranean meats and cheeses also continue to increase in popularity and supermarket deli sales.
Dried Italian meats including prosciutto, Genoa salami made from pork, hard salami made from smoked beef, pepperoni and sopressata continue to drive the deli pre- pack meat category, according to the Madison, WI-based International Dairy Deli Bakery Association's (IDDBA) What's In Store 2020, as they increased in sales more than $50 million in the year ending March 24, 2019.
New meat products are also gaining traction as, according to the Associazone Industriale delle Carne e dei Salumi, export sales of mortadella to the U.S. increased nearly 15 percent over the last three years. "Ethnic Mediterranean foods continue
to be on the rise," says Warren Stoll, mar- keting director at Kontos Foods, Paterson, NJ. "We are a global society; people who have travelled younger and farther have been exposed to many cultures."
Kontos is a premier baker of hand- stretched flatbreads, making 60 varieties of flatbreads in numerous sizes and shapes, with and without grill marks. They also offer loaves or slices of gyro meats, Souvlaki on skewers, and prepared and packaged foodservice trays of Pastichio, a Greek pasta dish with ground meat and béchamel sauce, and Moussaka, an egg- plant- or potato-based dish that includes ground meat.
"Mexican food is very popular in the U.S. today, but if you go back 35 years, it was not generally available in fast food; Mediterranean is travelling the same path, but we are a little behind," says Stoll. "You now see fast food chains like McDonald's and Subway offering flatbreads, and that's a trend I think will continue. You see flatbreads in many forms, and I've also seen all kinds of innovative ways people are using Feta."
The list of Mediterranean and Middle Eastern foods that have become staples in mainstream delis continues to grow.
"About 90 percent of our customers are in the mainstream markets like Meijer and Kroger," says Pierre Chammas, president of Steve's Mediterranean Chef, Madison Heights, MI. "My preference is that the hummus be displayed with the other dips and salsas. It's a more common item; it's not just ethnic."
The coronavirus epidemic rocked the deli, bringing some new trends that will last, as anxious consumers practice social distancing to protect themselves and their communities. Other changes could endure as long as the deep recession that is likely to result from efforts to fight the disease. There may even be a few new develop- ments that could become permanent, as consumers become accustomed to buying food online.
Pandemics and Packaged Deli Foods
While the pandemic has hurt deli sales— they were down more than 25 percent for the year on April 21—there are also oppor- tunities to merchandise packaged goods in innovative ways and to take advantage of the growing trend of internet-based sales.
Packaged Mediterranean products are generally gaining market share in the deli at the expense of the prepared foods cases, and smaller sizes suit the trend toward eating alone or with just immediate family members.
But the changes brought by the pandemic to the marketing landscape are so deep and complex that delis have a need and a right to expect help from their suppliers sorting out the details.
"You have to get as much information as you can to help retailers understand what their customers are thinking," says Ken Dedic, vice president of sales and market- ing at Jaffa Salads, Mundelein, IL.
The IDDBA teamed up with San Antonio, TX-based 210 Analytics to pro- duce weekly analysis of changing trends in the deli and throughout the supermarket during the pandemic and restrictions on social interaction.
Panic shopping hit supermarkets in late March, with meat sales nearly doubling in the week ending March 22 as consumers filled their freezers and produce sales up 30 percent and dairy sales increasing 60 per- cent as they filled their refrigerators.
But while sales in those departments have remained high as the restaurant sec- tor collapsed, they have come down to earth as people grew more relaxed about the food supply system.
"Stock-up shopping is likely to taper further, as pantries and freezers are full," says 210 Analytics president Anne-Marie Roerink in her April 7, 2020 report. "Consumers are settling into new realities of social distancing and are confident there will be ample food."
Some suppliers of Mediterranean deli foods noticed this pattern of frenzied buy- ing in supermarkets followed by a return to something like normalcy.
"Volume went up sharply at first, as people filled their pantries, and now it's settled down to normal," says Klein. "The trend among retailers is to focus on their best-selling items to minimize the com- plexity in the warehouse and stores. This is done to different degrees by different retail- ers. Some do it a lot, others a little, and some started doing it a lot and then dialed it back some."
Total deli sales were down 27 percent for the week ending April 12 compared to a year before, but the decline has been uneven as the bottom dropped out of displays of foods that consumers can look over at close range or even touch, while sales of packaged items were robust.
"During Easter week, the deli department experienced year-over-year sales increases for cheese, flat results for deli meat and con- tinued deep declines for deli-prepared. Service counters and self-serve areas con- tinued to be closed across many retailers or have shifted to an expanded meat/cheese grab-and-go assortment," says Roerink.
Some suppliers believe that as consum- ers practice social distance in response to the virus, the size of the most popular pack- ages has trended smaller.
"The larger size products are probably going to dip," Dedic says. "A 1-pound prod- uct would probably be for a larger number of people. My products are more social experi- ence products. We lost business compared to last year in the week before Easter."
The Post Pandemic Pantry
Even as the pressure to practice social distancing eases, consumers are likely to continue their cost-conscious food buying ways during what could be lingering diffi- cult economic times.
"We have seen a decrease in branded products, but nothing debilitating," says Dedic. "I'm still up around 20 percent on the year in volume because we are new, priced competitively, and sometimes it's good to be small. We're going to be able to survive this. We are trying to do more pro- motions; I'm just promoting the hell out of the products,"
Jaffa Salads is a relatively new Midwestern regional supplier of vegan, kosher clean ingredient hummus, baba- ganoush, tahini, guacamole, salsa and Moroccan matbucha, and snack packs that include guacamole or hummus with veg- gies or pita chips.
"People are starting to cook more from scratch, so they are looking for ingredi- ents," says Dedic. "Everyone is going to be shopping differently; my products are a convenience item, and money is going to be more of a value than time."
Analytics specialist Roerink also believes the numbers show more people were cook- ing at home by early April.
"Shoppers are preparing more home- cooked meals across all meal occasions, from breakfast to dinner," says Roerink. "Additionally, students of all ages are home from school, evening activities are can- celled, and shoppers emphasize healthful meals. At the same time, economic pres- sure is building."
George E. DeLallo Co. of Jeanette, PA. is featuring numerous make-at-home Mediterranean meal options.
The company's gnocchi kit includes everything needed to make fresh potato and cheese gnocchi.
For the more adventurous connoisseur of Italian dinners, DeLallo offers a recipe to combine gnocchi with chicken, bacon and spinach.
DeLallo is also featuring the makings and recipes for five different pea and pasta recipes suitable for springtime dinners.
As a sign of the times, even before the pandemic, one of the IDDBA's 19 trends was La Trattoria, Italian-themed eater- ies that offer the ability to eat a prepared meal at the establishment, buy a hot meal to take home, or buy cold, ready-to-warm or bake items.
Buying online skyrocketed during the pandemic, as consumers sought the safest ways to get their food, and this trend could be here to stay and offer the supermarket deli new competition.
"Consumers are adopting short-term behaviors during the pandemic that, in some cases, will become permanent, including the transition to online ordering and the purchasing of new brands and food items," says Jeremy Johnson, vice president of education for the IDDBA. "Consumers will emerge from COVID-19 in a new economic reality, which is likely to change grocery decisions even further. We will continue to track purchasing trends in the dairy, deli and bakery departments to try and get a handle on what may be that new normal."
The rise of internet sales creates new opportunities as well as new competition for the deli.
"We have seen an increase in online sales for our retailers offering pickup and delivery options and that also includes olives and antipasti," says Giuliana Pozzuto, mar- keting director at DeLallo. "Staying in and eating in, consumers are looking for ways to keep things interesting and exciting when it comes to their meals and snacks. With our prepackaged programs, olives and antipasti can be easily purchased using their active UPC codes for pickup and delivery via the retailer's website."
One Israeli olive oil maker is among the Mediterranean food producers relying even more heavily these days on internet sales to U.S. consumers.
"Although there has been a complete shutdown in Israel since the end of March, Sindyanna is considered an essential factory due to the fact that we produce and export food," says Hadas Lahav, CEO at Sindyanna of Galilee.
Sindyanna sells its prize-winning olive oils, herb mixes and honey made by Arab and Jewish women working together in Israel through Amazon, Fairway Markets and fair-trade groups like Ten Thousand Villages and Dr. Bronner's Magic Soap.
"You may not be able to go to the stores to pamper your friends and families, but you can stay at home and we'll come to you," says Lahav.
The Snack Solution
Some trends that were in motion before the pandemic figure to continue, and an important one is the popularity of healthy dips or spreads that suit the new way of eating many snacks over the course of the day rather than a few sit-down meals.
Deli sales of hummus and other spreads increased 3.3 percent in the year ending March 24, 2019, according to the IDDBA's What's In Store 2020, to approach $1 bil- lion, and other Mediterranean dips and spreads are gaining in popularity.
"Tzatziki and babaganoush and other Mediterranean salads are gaining traction," says Klein, "Hummus is growing in single digits. It's not as fast as it was, but it's still growing. Hummus is our main product in the Mediterranean category, although we do have a tzatziki-style dip."
Hummus is still rising in an expanding dip or spread category that also includes guacamole and salsa, and some suppliers offer all three.
Lakeview Farms, for example, offers a wide variety of salsas and guacamoles along with its hummus products.
For some suppliers, hummus is the Mediterranean alternative in their portfolio of healthy, plant-based dip and spread prod- ucts that are predominantly Hispanic.
"We do mostly salsa or guacamole," says Dedic of Jaffa Salads. "My Mediterranean portion is the weakest part of my business." Steve's Mediterranean Chef has intro- duced their four traditional hummus flavors: Original, Roasted Red Pepper, Garlic and jalapeño, which can be found in select retailers throughout the Midwest and are in the refrigerated dips of the deli.
"My preference is that the hummus be displayed with other dips and salsa," says Chammas from Steve's Mediterranean Foods. "It's a more common item; it's not just ethnic."
Chammas started Steve's Mediterranean Chef to continue to merchandise the Mediterranean recipes he knows best and has grown up with and derived the line of hummus from his family's traditional Lebanese recipes.
He believes other dishes and recipes from the region also have the potential to eventually go mainstream.
"Unfortunately, Middle Eastern is being defined by just hummus these days," says Chammas. "It's a challenge to be in the deli; it has to be fresh. We're able to preserve hummus; tabouli is popular but it is a chal- lenge because it has such a short [shelf] life. We're also seeing a big demand for garlic spread; traditionally you eat that with pro- tein like beef and chicken. Our product line is a lot more than hummus; we make kafta and meat pies with ground beef." DB
---