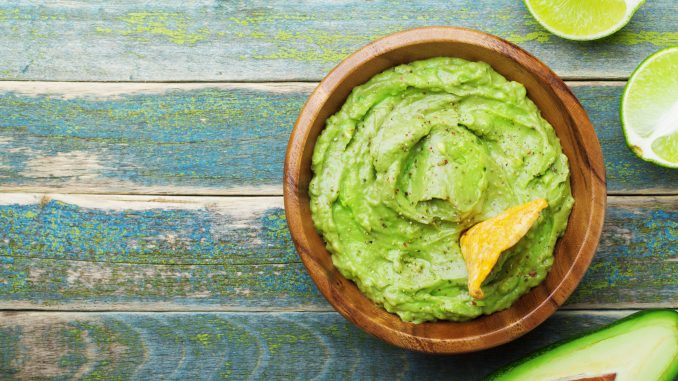 A quarter of a billion avocados are consumed on that day known as Super Bowl Sunday, as guacamole has become standard communion fare at this end of the football season celebration.
Avocados have gone mainstream in a big way, and the deli is well-positioned to feature the many uses of the creamy dip or spread made with this delicious but nutritious fruit.
"Guacamole has been growing, both in deli and throughout the grocery store and has seen very strong growth in foodservice, as well," says Neha Goradia, associate marketing director at Sabra Dipping Co., White Plains, NY.
Sabra started as a hummus manufacturer in 1986 in Astoria Queens, NY, and over the decades developed a number of flavor profiles that allowed it to become the category leader and play a major role in taking the traditional Middle Eastern spread mainstream.
An Increasing Opportunity
The versatile, rough-skinned avocado has been discovered as a rare item — a delicious, heart-healthy source of cholesterol-free fat, which has led to greater interest in this incredibly popular dip.
"Overall, refrigerated guacamole sales are continuing to increase in both the deli and produce sections of the store, which is predominately where refrigerated guacamole is sold in retail stores," says Diana Pusiri, brand manager for Wholly Guacamole, a subsidiary of Hormel Foods, Austin, MN.
"The growing sales can be attributed to an increase in U.S. households that are purchasing refrigerated guacamole — current household penetration rate is around 22 percent, which is up a little under 5 percent."
Guacamole in the supermarket deli can be particularly inviting as an ingredient that adds something special to fare served at a social gathering.
"Deli is a convenient section of the store for people to grab quick items for a gathering," says Pusiri. "In comparison to guacamole that is sold in the produce section, deli guacamole over indexes with party or group occasions. Many delis offer their own store-packed guacamole, which often uses a combination of prepared guacamole and other fresh ingredients."
While a number of producers offer bulk or consumer packs, some supermarket delis take advantage of their unique opportunity to offer the freshest possible guacamole by making it in- house using ripe or even over-ripe avocados from the produce department.
"The retailers I'm aware of are bringing avocados to their store and taking them from the produce department to the deli for guacamole when they are ripe," says Jan DeLyser, vice president of marketing at the California Avocado Commission, Irvine, CA. "There is a trend toward fresh guacamole, prepared in their deli. They are using avocados that are guacamole ready. They might even be too ripe to eat, but they are perfect for guacamole. It's an opportunity to reduce shrink. The flavor profile is awesome, because it is fresh."
Although Mexico produces most of the avocados eaten in the United States, California farmers account for the lion's share of the domestic harvest, with 50,000 acres planted almost entirely in the variety first sold by Southern California mail carrier Rudolph Hass.
Hoping to augment his pay delivering the mail in Pasadena in the mid 1920s, Hass used every dollar he had and a few borrowed from his sister Ida Hass, to buy an acre-and-a-half orchard of avocados of the Fuerte variety, which was the standard of the day.
He discovered what has become the dominant variety by accident. One of the seeds he bought from a local nursery was a highly productive and manageable-off type that Hass gave his name before he took out a patent and planted 80 acres in the Fallbrook area near San Diego, which is still a center of domestic avocado production.
The California Avocado Commission helps market this fruit from the state's 3,000 avocado growers under the slogan 'A Taste of California.'
"When we are in season, some of the stores are putting up 'Made With California Avocados' signs by the guacamole," says DeLyser. "We're seeing more and more guacamole in the stores."
The Hass Avocado Board offers dozens of recipes, including many for mild to spicy guacamole, and for dozens of dishes that include guacamole as an ingredient.
The major suppliers offer recipes and ideas for the deli to expand its use of guacamole or pass on to the customers.
"We continue to see a lot of opportunity to expand on the already strong popularity of guacamole by sharing recipes and inspiring guacamole uses on menus in more creative ways," says Sabra's Goradia.
One of the Sabra recipes helps expand the use of guacamole to the breakfast hour as the featured ingredient in the increasingly popular avocado toast.
The Full Display
A full display in the deli should include, in addition to generous portions appropriate for a social gathering, small packages suitable for a single person.
"Guacamole is often sold in a tub container, which is great for sharing, but we also make guacamole available in single containers for individual use, and we get a lot of positive feedback for that," notes Goradia. "People are on-the-go and often use guacamole on a pretty regular basis, even outside of larger gatherings, so individual servings are appreciated."
Guacamole can be used as an ingredient in deli sandwiches or salads and can also be the mainstay in a variety of grab-and-go deli snack products.
"In our newer offerings, we pair Sabra's popular Guacamole Snackers with Tostitos for a snack, and one of the most exciting new offerings has been Sabra's Breakfast Avocado Toast — a blend of Hass avocados ready-to-spread and paired with crusty whole grain toasts," says Goradia. "It is a convenient on-the-go breakfast snack."
Smaller packs expand the range of uses for guacamole as a convenient grab-and-go snack item.
"There are many opportunities for guacamole in foodservice deli programs," says Pusiri. "It is great as a spread or a quick add-on using Wholly Guacamole Minis."
The growing popularity of guacamole and avocados is off the charts: The U.S. Department of Agriculture Foreign Agricultural Service forecasts imports of more than 4 billion pounds of avocados from Mexico in the 2018-2019 season.
U.S. retail avocado sales in dollars increased nearly 32 percent more than the previous year in the quarter ending Sept. 30, 2018, according to Hass Avocado Board statistics, which easily outpaced tangerines as the fastest growing fruit. The Hass Avocado Board has set the lofty goal of doubling consumption, from 7 to 14 pounds per capita, in the four short years from 2017 to 2021.
The Hass Avocado Board annual consumer survey demonstrates the strong position this fruit has already gained in the marketplace.
Although Hispanics are the strongest market, more than 70 percent of non-Hispanics buy avocados at least monthly, and this group consumes an increasing average of more than 75 a year, with the news that avocados are good for you; outpacing even taste, appearance and price in reasons for customer purchase.
The U.S. guacamole market has already reached around $375 million, according to Chicago-based IRI market research, and the opportunity has attracted a number of large and medium-sized firms competing for supermarket and deli business.
Over the last decade, the Strauss Group and PepsiCo acquired the Sabra brand and expanded the hummus leader to become a dipping company producing, in addition to hummus, a line of guacamole.
In addition to the PepsiCo and Strauss Group operation, Santa Clara, CA-based Landec's Apio unit late last year acquired Yucatan, which markets guacamole under its Yucatan and Cabo Fresh brands, and a decade ago Hormel and Herdez del Fuerte formed MegaMex Foods, which produces salsas, sauces, tortillas, peppers and dressings, in addition to guacamole. db