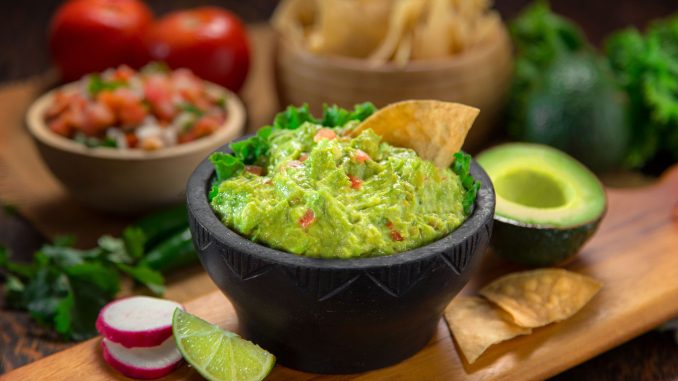 There may not be a perfect food, but guacamole comes close. Not only does it have wide appeal, but it is nutritious and multifaceted for use as a dip, spread or topping.
U.S. dollar sales of refrigerated guacamole dips totaled approximately $585 million in the 52 weeks ending Jan. 24, 2021, a 5.3% increase from the same period a year prior, according to Chicago-based IRI. Unit sales for this period were about 125 million, a 1.7% increase from 2020.
"The refrigerated guacamole category has grown by an 11.1% compound annual growth rate over the last four years, according to a Jan. 24, 2021 report from IRI," says Damon Manak, brand manager, Wholly Guacamole at MegaMex Foods, based in Orange, CA. "We have seen this growth in the deli with both multi-serve and snacking portion options. We also know clean ingredients continue to resonate with consumers, as we see health and wellness have become a priority in the foods they choose to consume. Consumers are looking for brands and ingredients that promote longevity and vitality."
The growth of guacamole in the deli category particularly is outpacing other dips in both dollars and shelf presence in recent years, he says.
"With consumers focusing on food as medicine, options like hummus and guacamole offer alternative snacking options," Manak says.
Category Evolution
The deli guacamole segment has evolved from a few items to now having multiple brands, package types and eating occasions.
Wider trends around avocados and plant-based diets have propelled the evolution of guacamole from a dip staple for parties and occasions to everyday usage.
"Guacamole is now available in multiple sizes, flavors and varieties," says Caitlin Mahler, brand manager at White Plains, NY-based Sabra. "Sabra has brought products beyond one standard tub size to the deli set; for example Sabra offers Singles, multi-serve tubs, and specialized products for snacking occasions, including Guacamole Snackers and Sabra Breakfast Avocado Toast. The launch of Breakfast Avocado Toast brought a new and interesting occasion and incremental purchase to the category and our consumers. This product is unique in that it brought a trend from restaurants into retail."
Jaffa Salads, located in Mundelein, IL, is launching an avocado spread this year to capitalize on the popularity of avocado-based products.
"Guacamole has been a great item that continues to have growth, but items that are avocado based, like salsa, are becoming more prevalent," says Ken Dedic, vice president, Jaffa Salads.
Its shelf stability has been a challenge for avocado-based products like guacamole.
"Avocados are a very unique fruit, as it reacts to heat and light," Dedic explains. "People think it oxidizes in the refrigerator quickly from oxygen but it's actually subject to light, which is when the outside will turn brown quickly."
Fortunately, packaging innovations and new technology have been beneficial to these products.
Jaffa Salads' shelf stable avocado product is unique with an atypical color.
"With the growth of avocados as an all-day-part item, people want avocados but not necessarily guacamole flavors," Dedic says. "We're seeing spreads with just a few ingredients, like avocado, salt and olive oil and maybe cilantro. These can be a sandwich spread or ingredient in avocado toast."
In anticipation of children going back to school, Jaffa Salads' individual size of its avocado dip is designed to be easily included in lunches or positioned as a snack item.
Curation Foods, based in Santa Maria, CA, was one of the first guacamole providers to launch a resealable tub with a lid. This is now popular with most brands.
"There have been big changes in guacamole packaging, which has been the biggest evolution for this segment," says Dustin Bridgewater, consumer marketing, Curation Foods. "Consumers continue looking for products with clean ingredients as well as authentic products. We also are seeing customization of these products."
MegaMex has launched its HERDEZ Guacamole in the deli segment in late 2019 with an authentic Mexican recipe.
"In general, avocado has become a top rated flavor making for a trendy ingredient and another vehicle for growth in the category," Manak says. "As far as formats go, single-serve portions have become popular like our WHOLLY GUACAMOLE's six-count classic minis. There also has been a focus on convenient and transparent packaging. The shift away from trays and cardboard into clear cups and bowls provides better product visibility. Convenient formats such as minis or single-serve portions have been on trend."
Today's Trends
Classic guacamole in various packaging formats continues to lead with consumers and rank at the top of the category, according to experts.
"At the same time, heavy usage consumers are trading up to larger pack sizes," Sabra's Mahler says. "From guacamole manufacturers, we are seeing products with varying levels of heat as well as flavor and ingredient additions like pepper varieties, garlic, lime, black beans and corn. Manufacturers are also exploring ingredient subtractions/simple profiles — for example offerings focused on avocado."
Limited refrigerated set space, the introduction of private label and wider impacts like COVID have affected all fresh dips, not just guacamole.
"Consumers are looking for freshness, value and delicious taste," Mahler says. "The quality/value equation is especially important in today's COVID landscape, as consumers are mindful about spending but are also looking for little indulgences as they prepare more meals at home."
Due to the need for larger pack sizes in the current environment, Sabra has focused on its 16-ounce resealable guacamole tub.
"Our single-serve portfolio delivers on consumer needs around convenience and portion control," Mahler says. "This lineup includes 2-ounce Singles, Guacamole Snackers with rolled tortilla chips, and Breakfast Avocado Toast."
In addition to growing sales of larger-sized guacamole, there also has been increased interest in smaller formats.
"Since we launched it a year and a half ago, our smaller 8-ounce container is experiencing more sales," says Jaffa Salads' Dedic. "Weekday sales are increasing, so it's more of a weekday product for single use rather than for a party or the holidays."
Jaffa Salads' guacamole line includes chunky and regular products in a tub. It was one of the first to offer a high pressure pasteurization (HPP) guacamole line to help maintain product integrity.
"The newest thing we're seeing is the squeezable guacamole pouches, although we haven't gone into it yet," he says. "The benefit is it is self-contained and no air is going in and out, so it has a longer shelf life."
Curation Foods recently introduced squeeze pouch packaging for its guacamole line. This is a vehicle that provides added convenience in use, as no utensils are needed, and the bottle is transparent for consumer convenience.
"This offers extended freshness with airlock technology, which is a big thing for us," Bridgewater says. "With a cap in the pouch, our product can last 14 days after opening. There is no more brown guacamole."
Proper Positioning
Carriers and meals provide profitable cross merchandising opportunities for guacamole based on consumer usage.
Sabra is testing a brand partnership at key customers driving traffic and cross-purchase from a different, relevant segment this spring.
"Guacamole is loved for, but not limited to, dipping," Mahler says. "Sabra guacamole is perfect for topping tacos, spreading on toast and making a meal complete."
This item is best merchandised by the salsa and dips as well as near complementary items like tortilla chips and meal solutions.
"Kroger does a great job with What's for Dinner meal solution programs," says Bridgewater at Curation Foods. "They will have a guac burger recipe that offers all items for this recipe in a secondary display."
Curation Foods has been focusing on guacamole's health benefits.
"We want it to be in all day parts so consumers eat more guac," Bridgewater says. "The squeeze pouch conveniently fits in the side of refrigerator doors and is ready to go for topping eggs in the morning, sandwiches in the afternoon, as part of a snack with tortilla chips. This is a healthy item that is a flavor enhancer and keeps people full."
There is a lot of opportunity for cross merchandising within the deli; guacamole has a high index with deli meats and cheeses. It is such a versatile ingredient that consumers can be inspired with other deli items such as salads, sandwiches and charcuterie."Additionally, with many consumers finding new ways to shop over the last year, brands must be agile and flexible to address these changing habits and provide a consistent experience throughout the path-to-purchase," says Manak at MegaMex. "That means reinforcing brand messaging across key touchpoints to increase the likelihood of making it into the cart." DB