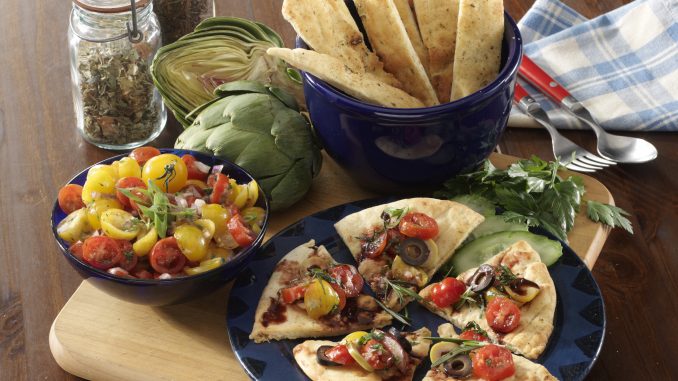 As more consumers seek to limit their carb intake and eat healthier, flatbread, such as pita, focaccia, naan and tortillas, has become a mainstay in many diets.
An estimated 1.5 billion people world-wide consume traditional flatbreads as a food staple, and many people throughout the world are also consuming newer forms of products based on flatbread technology, such as take-out pizzas or sandwich wraps.
The global flatbread market size was valued at $38.8 billion in 2018 and is estimated to reach $62.8 billion by 2026 with a compound annual growth rate of 6.2%, according to Allied Market Research. Moreover, availability of various healthy alternatives in the market with low-calorie content, fat-free and cholesterol-free products is expected to fuel the segment's growth.
With simple ingredients—just water, flour and salt—there have been ingredient variations and a range of thicknesses, in addition to gluten-free ideations. Corn, rye, millet and barley are also used. Whole grain flatbread products provide high amounts of fiber and are rolled out flat and cooked in a brick oven.
"When we say flatbread in retail it's an Anglo descriptor," says Warren Stoll, marketing and business development director, Kontos Foods, Paterson, NJ. "It comes in round, oval or square shapes. And by ethnicity, it changes."
Greek flatbread is pita, in India it's naan and in Mexico it's a tortilla.
What's Trending
There are many recent developments in flatbreads, such as new flavors, more nutritious ingredients and gluten free options.
"Flatbreads represent healthy eating to many consumers and that has become more important as people do more eating at home," says Jenni Bonsignore, marketing manager at Fresno, CA-based Valley Lavosh. "Also, consumers have more exposure to and interest in ethnic foods and are looking for something different when it comes to bread choices."
Flatbreads have become much more mainstream over the last decade and so consumers have had more exposure to these products.
"I also think that people have more of an interest in authentic foods, ancient breads, and the story or culture that is inherent in the history of flatbreads," says Bonsignore. "[There are] more [gluten-free] options that are marketed to consumers who are looking for these types of bread products."
There has been growth of new flavors in the flatbread segment.
"We definitely see growth with new flavors, such as incorporating peas and kale into bread to up the nutritional profile," says Karen Toufayan, vice president of marketing and sales, Toufayan Bakeries, Ridgefield, NJ. "We are naturally vegan, and that's become important and a growing trend. We're seeing gluten-free wraps and pita, but the pita is difficult to make so we don't offer it. We do a low carb wrap and smart pocket that is higher in protein."
Delis with sandwich programs have successfully incorporated flatbread for hot paninis and wraps.
"Our panini has grill marks on it already," says Stoll at Kontos. "The other trend is anything that gets into specific niches, not just paninis but wrap sandwiches."
Kontos offers a number of flatbread products, including white, whole wheat, low carb, tomato flavored and jalapeño wraps.
"We do have an excellent gluten-free wrap that is pre-grilled with marks," says Stoll. "We also have mini panini with grill marks that's 4-inches-by-6-inches. The idea is you can grab and go or eat on the run. Sandwiches are the perfect accompaniment to that."
New Launches
With flatbread sales continuing to rise, there have been a number of new products introduced in the last year.
This past summer, Valley Lavosh introduced Lahvosh Minis in a Sea Salt variety.
"The Minis are a bite-sized cracker with just a dash of sea salt, and they are perfect for a charcuterie board or just as a nutritious snack," says Bonsignore at Valley Lavosh.
Hingham, MA-based Venus Wafers Inc. is introducing mini flatbreads and also has added a sourdough flatbread line recently.
"Everything we do is non GMO," says James R. Anderko, Venus Wafers' vice president of sales and marketing. "It's vegan and can be organic, if necessary. "As for trends, protein crackers are high in fiber."
With the different flatbread ethnicities, such as Greek pita and Indian naan, Toufayan Bakeries has been updating its line to accommodate consumers' changing tastes.
"We just introduced tandoori naan, which is richer in flavor, has more fat and is more flavorful than regular naan," says Toufayan. "During quarantine, I heard from so many consumers reaching out and letting us know kids were making flatbread pizzas and using our product in panini presses. I've seen a lot of foodservice staff cut it into triangles, toast it and use it for dipping in dips."
Manufacturers are definitely seeing a spike in gluten free and low carb flatbreads, yet this hasn't impacted the sales of traditional product.
"We do have gluten free wraps, and those who try them love them," says Stoll at Kontos. "Consumers seem willing to accept the level of quality for gluten free, and the options are getting batter with wraps, but I haven't seen it with pita bread and other flatbread."
Kontos' new Rustics Collection includes traditional and garlic naan that is a pear shape like the homemade version. It features two-piece packaging with thicker plastic and a zipper lock at the top.
Marketing & Merchandising
Flatbreads are tailor-made for supermarket delis because of the cross merchandising opportunities. Whether used for a wrap sandwich, an appetizer, a pizza or a charcuterie board, many of the ingredients are available in this department.
Delis have the opportunity to tout the benefits of flatbreads, which are versatile and simple to use.
"It's a perfect opportunity to give customers a recipe or serving suggestion for a quick, easy meal," says Bonsignore at Valley Lavosh. "Flatbreads invite consumers to show their creativity and personalize their food so highlighting that aspect is always a good strategy."
Although sampling is difficult to do with the pandemic, there are other opportunities to promote flatbread.
"People are seeking ideas and may buy cheese by the pound and see what's good with it," says Anderko at Venus Wafers. "The benefit of the deli versus the grocery aisle is that flatbread lends itself to the department with its packaging and tray. It's much easier to merchandise in the deli than on the shelf, and that's where people are making additional purchases."
Toufayan at Toufayan Bakeries says flatbread is best merchandised in the deli alongside upscale meat like prosciutto or gourmet cheeses.
"Merchandising in the deli as opposed to the grocery aisle is really smart," says Toufayan. "We're working on some innovative packaging that is designed to cut down on environmental waste."
Kontos' flatbread is mainly used in deli foodservice programs for sandwiches.
"Brands generally won't be sold in both the grocery aisle and deli, it's one or the other," says Stoll at Kontos. "The market is moving toward hand-held foods for on the go, and we haven't seen the peak. More people, too, are seeking better quality. People will continue wanting lower carb flatbread versions."
Although flatbread is still a niche market, there will continue to be innovations within the category.
"We're looking at different things that make sense, like snack crackers and toppings that make products more appealing such as black sesame seed," says Anderko at Venus Wafers.
As the category has not yet reached its apex, the deli will have continued opportunities to capitalize on this segment."I think the things that appeal to consumers—new eating experiences, healthy bread choices, cultural authenticity—will remain constant," says Bonsignore at Valley Lavosh. "Flatbreads will continue to meet those customer expectations, and the category will grow." DB