If you leafed through the pages of the Roman-era cookbook, "Apicius", you'd find a whole section devoted to condiments. One of these is mustum ardens, ground mustard seeds mixed with grape juice, which, along with herbs and spices, is suggested as a savory glaze for spit-roasted wild boar. Since then, there's come mayonnaise, a 17th or 18th century French or Spanish invention that took America by storm in the early 1800s in lobster and chicken salads. About the same time, a Philadelphia physician first made ketchup, named for a Chinese fermented fish sauce called kê-tsiap, with tomatoes. Thus, condiments are an ages-old food flavoring in no danger of losing their place at the table anytime soon.
In fact, the North American market for sauces, dressings and condiments is forecast to surpass $37.7 billion by 2023, growing nearly 5% annually, according to the March 2020-published report, North American Sauces, Dressing & Condiments Market – Forecast (2020-2025), by Mordor Intelligence, with U.S. offices in Boston.
What's more, dollar sales of deli condiments increased 12% during the 52 weeks ending Aug. 15, 2020, compared to down 3.1% the year prior, according to data provided by Nielsen, a New York-based data analytics company.
This growth is driven by consumer demand for trendy tastes and unconventional usages, both of which the deli is perfectly placed to satisfy.
"Condiments are the most creative category in the grocery store," says Dominic Biggi, CEO for Beaverton Foods, Inc., based in Hillsboro, OR. "Traditionally, what set condiments merchandised in the grocery aisle and deli apart were the more specialty and eclectic flavors offered in the deli. Flavor is even more important today, as more people are working from home and cooking at home due to the pandemic. They don't want to eat the same thing day in and out but instead are looking for a variety of tastes and flavors. This makes it an exciting time for the condiment category."
1. SELL THE STAPLES
Some of the most popular, tried and true, staple deli condiments include mayonnaise, mustard, ketchup, barbecue and hot sauce, according to Ben Crook, senior marketing director for Hellmann's North America, a brand of Englewood Cliffs, NJ-headquartered Unilever U.S. "Our Hellmann's Homestyle Mayonnaise, available as of March this year, boasts 40% more eggs than our Hellmann's Real Mayo and is one of the richest and creamiest mayonnaise available from the brand. The clean, simple ingredients and creamy texture make this the perfect secret weapon for all culinary needs."
Mustard and mayonnaise-based products are a must for the deli, agrees Jeni Path, marketing manager for Eau Claire, WI-based Silver Spring Foods, a subsidiary of Huntsinger Farms, the world's largest grower and processor of horseradish. "Our newest product is our Applewood Smoke Flavored Horseradish, a new twist for shelf-stable horseradish and made with champagne vinegar."
Interestingly, horseradish was the number one condiment sold in the deli, representing nearly one-third (32.5%) of dollar sales, based on Nielsen data for the 52 weeks ending Aug. 15, 2020. Mustard (2.3%), mayonnaise (2.2%) and ketchup (0.8%) collectively represent a little over 5% of deli condiment sales. However, after horseradish, sandwich dressing (23%), seafood condiments (12%) and relish (11.7%) are the three largest deli condiment categories.
2. GET ADVENTUROUS IN FLAVORS
Spicy flavor profiles are a hot trend in condiments, according to the 2019 U.S. Flavor and Ingredient Trend report, published by the Mintel Group, Ltd., with U.S. offices in Chicago. For example, habanero chili ranked as the number one ingredient found in new product launches from 2017 to 2020. Other top ingredients included wasabi, Sichuan pepper, Naga Jolokia (ghost) pepper and herbs and spices.
"We're seeing more people, particularly on the younger end, who are more adventurous with new flavors. They're seeking out condiments that can bring a diverse burst of flavor, including heat/spicy flavors (i.e., chipotle mayo) and regional/ethnic-based flavors to name a few," says Hellmann's Crook.
Hellmann's introduced its Drizzle Sauces in April. The five-item line includes Roasted Garlic, Creamy Bourbon BBQ, Cilantro Lime, Creamy Chili Honey and Roasted Red Pepper. Crook says these sauces were created with versatility in mind, with consumers using these as a dressing, marinade, dipping sauce or simply drizzled over any dish to add even greater flavor.
Cranberry Honey Mustard is a big seasonal product but deli operators are finding that consumers like this sauce year-round on their turkey sandwiches, says Tom Orlando, national sales director for Pittsburgh, PA-based Conroy Foods, which markets its products under the Beano's brand. "Another good example is our Pineapple Honey Mustard and ham sandwiches. Innovative flavors can differentiate delis' offerings from the competition."
Consumers are even looking for greater flavor in one of the most classic condiments—olive oil, says Ehud Soriano, a professional olive oil consultant who works with Tel Aviv-based Sindyanna of Galilee, the only female-led, non-profit, certified fair-trade olive oil producer in Israel. "Olive oil consumers worldwide usually prefer mild and subtle olive oils. This is the case even in countries with a long and strong culture of olive oil consumption. However, in the last 10 years, we find producers are providing more complex and robust olive oils, with stronger aromas and the presence of bitterness and pungency, which contribute to the oil's new depths and layers of taste and complexity. Also, new products, such as flavored olive oils and smoked olive oils, are appearing like mushrooms after the rain, and it seems that the category is developing very fast."
3. CATER TO 'CLEAN INGREDIENT' SHOPPERS
Two top purchase drivers are ingredient lists (76%) and 'no additives' (71%), according to consumers surveyed for the 2019 Global Clean Label Consumer Study, by Ingredion, a multinational ingredient provider headquartered in Westchester, IL.
"Consumers are looking for condiments that offer a health claim such as gluten-free or organic/Non-GMO. Our new Applewood Smoke Flavored Horseradish is gluten-free and low in calories," says Silver Spring's Path.
In February, Hellmann's relaunched its Vegan Dressing & Spread now made with sunflower oil. The new recipe is Certified Plant-Based, Vegan Action Certified and is eggless, cholesterol-free, gluten-free and made with non-GMO sourced ingredients.
4. OFFER PACKAGING OPTIONS
The squeeze bottle line of condiments from Beaverton Foods continues to increase in sales, due to greater convenience, according to Biggi. "We also have the traditional 4-ounce jars and some portion-controlled packs."
Bullet style bottling with a switch cap or flip top squeeze cap are new packaging concepts from Silver Spring Foods.
"Under the current pandemic and with an increased focus on how products can be shared safely within groups of people or extended family members, I think you will continue to see product development evolve with "no-touch" application features. The days of passing around an open container and everyone using their own flatware to dispense the product are coming to an end," says Conroy's Orlando.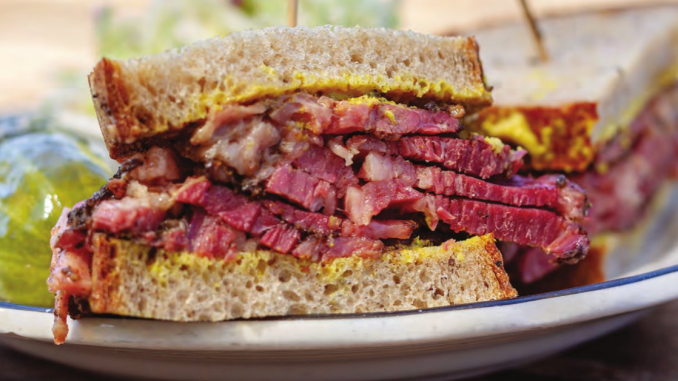 5. TRY TRADITIONAL & TRENDY CROSS MERCHANDISING
The most usual use of condiments in the deli is on sandwiches. For example, at Wegmans Food Markets, a 101-store supermarket chain headquartered in Rochester, NY, the deli's 'Create You Own Sub' menu offers five categories of condiments. There's mayonnaise—plain, spicy, sriracha and horseradish; mustard—organic yellow, honey, organic spicy brown; spreads—hot pepper; dressing—signature oil, ranch, organic blue cheese, and sauces—buffalo and seasoned tomato.
The trend toward spicy condiments for sandwiches in foodservice applications is evident in MenuTrends 2020, by Datassential, a food industry market research firm headquartered in Chicago. The latest one-year growth in up-and-coming condiments offered on hot and cold sandwich menus at restaurants surveyed was: Nashville Hot (133%, Mojo (24%), Creamy Horseradish (20%), Balsamic Glaze (16%), Harissa (13%), Buttermilk (13%), Dijonnaise (9%), Soy Sauce (3%) and Garlic Aioli (2%). Only one trending condiment saw a decrease, Sriracha Aioli down 5%.
"More and more retailers have a pre-packed deli area for the consumer that does not want to wait in line. These consumers grab some pre-sliced cheese, ham maybe turkey and right above the grab-and-go case you have a selection of condiments that this consumer will also grab and their purchase decision is done," says Conroy Foods' Orlando.
Beyond sandwiches, the more diverse a condiment is in usage applications the better," Orlando adds. "A number of our products have multiple uses. For example, in addition to ham, our Pineapple Honey Mustard makes for a great dip for soft pretzels."
Consumers are mixing condiments to create or 'discover' new flavors in a variety of dishes to enhance the overall flavor and texture—using them to 'dip, drizzle or dress' meats, grains, pizzas, sandwiches, vegetables and more, according to Hellmann's Crook. These non-traditional uses for condiments are also a springboard for delis to carry a broader range of these products."We have been partnering with our retailers to merchandise a more unique line up of items so their deli becomes a place to find solutions for the customer," says Giuliana Pozzuto, director of marketing for the Jeanette, PA-headquartered George DeLallo Co., whose latest deli condiment launch is an all-natural Italian tomato bruschetta that is ideal for cross merchandising with Italian cheeses like fresh mozzarella, Asiago and Parmigiano Reggiano. "These items range from our sweet and fruity spreads for cheese pairings to briny and bold bruschetta that goes great with sandwiches and paninis, hummus dips, grain bowls and charcuterie plates. The key is to create a one-stop resource, giving customers everything they need for gourmet snacking or small group entertaining all in one location." DB