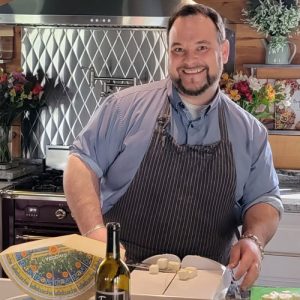 Regional Director of Sales – Mid Atlantic
Euro USA
Cleveland, OH
Q. How has your career evolved over the years?
A. I began my career as a high school student in need of money in the summer of 2001. I started at Arrowine and Cheese as a part-time deli/cashier clerk in Arlington, VA. After a few years, I had the opportunity to go full-time. Not knowing or at the time predicting my longevity in the food business, I started to rise through the ranks of the deli department as an assistant deli manager followed by deli manager. I was taking on any task, big or small, as a buyer for multiple different departments, including cheese, charcuterie, grocery items and beer.
I eventually took a brief hiatus to work for Dean and Deluca in Georgetown, Washington D.C., where I was a manager of the cheese and charcuterie department reinvigorating their selection and services.
Heading back over the bridge to Arrowine for a second stint, I dove headfirst into cheese and charcuterie exclusively. I'm really challenging myself to grow and educate. Sharing all my newfound excitement with my staff, together we grew the cheese counter to one of the best in the nation. I was fortunate enough to get involved with the Cheese Monger Invitational and eventually won the first place standing at the inaugural West Coast version. This opened the door for me to experience Mondial du fromager, which is like your favorite food competitions but better since it is 100% cheese related.
As I hit 15 years working the retail schedule, I urged for change that would allow me more time on the weekend and holiday times with family. I found a great job working for Cardoos/McKenna marketing (now Foodluma) This job was a great opportunity to work with several vendors and larger distributors I had not worked with prior. I'm seeing the larger side of distribution and product fulfillment on a national level.
I had been a long-time customer of Euro USA and was working with them now on the broker/vendor level while with Foodluma. They offered me a position as an outside sales rep covering my local DC/NOVA area. This eventually grew into the entire state of VA and all of Washington D.C. At the beginning of the pandemic, an opportunity came along for the position of regional director, which is the position I hold today. I currently oversee our entire office and warehouse. Overseeing our sales team and office staff. Coordinating with our logistic/transport team to ensure delivery of over seven states and hundreds of customers. Euro USA offers a large assortment of products ranging from fresh meats and seafoods, pantry specialty items, frozen goods and, of course, cheese and charcuterie items. I love my current job, as it allows me to work with leaders in the retail, foodservice and hospitality industries. Best of the best, [I'm working with] folks that really appreciate and love good food.
Q. What is your leadership philosophy?
A. Lead by example. I think most people take their cues from what you actually do, not what you say. When the employees see you working hard, they will, too.
Q. What is the best advice you ever received and why?
A. Always have a general plan and goals. It doesn't matter how big or small the task or achievement is; if it takes one day, one week, one month, one year, five years or 10 years. Create short-term goals to reach long-term goals. Have an idea of where you see yourself and what you want to do, and you will make it so.
Q. What deli retail trends have impacted the industry most over the last year?
A. Grab-and-go has been a major focus over the past two years. Working through labor shortages is requiring us to go to market differently than ever before. Time or labor are two things that a lot of people don't have enough of. We are constantly evaluating more pre-packaged items to offer to our clients. We need to find offerings that help expedite the shopping experience for those who don't have an abundance of extra time.
Q. What have been the biggest changes in the deli industry over the course of your career?
A. One change is the accessibility to specialty products across the country. Over the past 20 years that I've worked in this industry, people now have more access to specialty products either at their local grocer or online.
Q. Are you married? If so, how long? How many children?
A. Yes, I am so blessed to have married my high school sweetheart Carinda, She is a school teacher. We just celebrated 20 years of being together and have been happily married nine of those years. We have two boys — Maximus, who is five, and Leonidas, seven months.