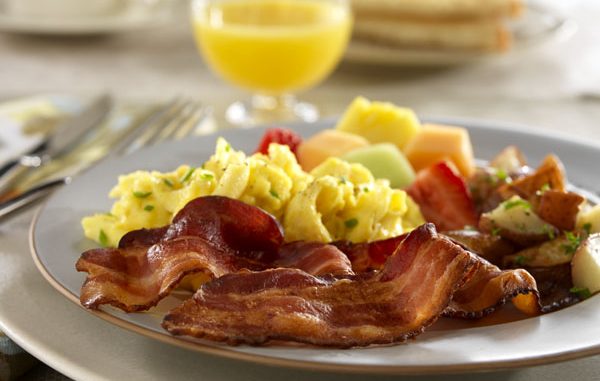 Early birds can get everything from scrambled eggs and bacon to breakfast burritos and crois- sant puffs on the breakfast hot food bar, served from 7 to 10 a.m., at nearly every one of the 27 Lunds & Byerlys locations. What's more, deli employees at the upscale retailer, owned by Minneapolis-headquartered Lund Food Holdings, Inc., set up the salad/cold food bar immediately after breakfast fixings go out. Ditto for store locations that have Mediterranean food and taco bars as part of its Creations Café food-court style concept. This means customers can customize to their taste buds' content, whether it's comfort, indulgent or somewhere in-between. Fresh spinach on baked eggs, roasted veggies atop hashed browns, and fresh-cut fruit over French toast or waffles are just a few everyday examples. Even a trendy Greek omelet, with tzatziki from the salad bar and gyro meat from the Med bar or breakfast tater cakes topped with taco bar fixings like salsa and guacamole, is possible. The huge opportunity for deli operators, as Lund Food Holdings' director of deli retail and foodservice, John Stueland, has found, is the ability to attract customers at a non-traditional time of day via a self-serve buffet sold by the pound, while adding no additional labor or fixtures, and only stocking a dozen or so additional ingredients.
"Sit down restaurants used to be pop- ular for breakfast, and especially so in our Byerlys stores' history. Now, life is at a much faster pace. At the same time, the day of the $3.99 breakfast of two eggs, bacon and toast is long gone due to labor costs. In the last 20 years, diners and other restau- rants have repurposed and changed their menus and day part orientation to more lunches and dinners. Thus, it was four or five years ago now, when we were exper- imenting with the menus in our Creations Café concept, where our hot and cold bars are located, that we decided to introduce breakfast. We got traction almost immedi- ately," says Stueland.
Breakfast used to be the most skipped meal of the day. No longer. Eight in 10 consumers say breakfast is an important part of their day, according to the 2019 Breakfast Keynote Report by Chicago- headquartered food industry market research firm, Datassential. What's more, convenience store and quick serve restau- rant (QSR) operators have especially taken advantage, and their breakfast rev- enues are up 64 percent and 46 percent, respectively.
"Supermarkets are well-positioned to capture breakfast traffic—their in-store bakeries already put out a wide variety of donuts, coffee cakes, etc. Bundling those items with a coffee drink could com- pete with QSRs for morning traffic. One key would be to make a supermarket deli breakfast just as convenient, i.e. positioned near the front of the store with a dedicated register, a seating area or a condiment bar. They also can leverage convenience by merchandising grab-and-go items not only for breakfast but for shoppers to pick up for lunch, as well," says Jackie Rodriguez, Datassential's senior project manager.
Here are four ways operators can turn delis into a breakfast destination.
CREATE A BREAKFAST SANDWICH PROGRAM
Sand wi- ches are synonymous with the deli, and breakfast sandwiches have quickly become one of the most popular of the morning staples. To confirm this, deli operators need only take a cue from QSRs. For example, Columbus, OH-headquartered Wendy's, which is rolling out breakfast to all its 6,700-plus units nationwide this year, offers nine sandwiches, including its sig- nature Breakfast Baconator and Honey Butter Chicken Biscuit.
"Not much beats a classic bacon-egg- and-cheese served on any good base, be it bagel or biscuit. The simplicity of this sandwich lets the ingredients shine, so choose top quality meats and cheeses, especially. These sandwiches are also easy for customers to order and opt out of an item that doesn't fit their diet, like dairy or meat, and still get a hearty sandwich," says Megan Dorsch, marketing manager for Nueske's Applewood Smoked Meats, in Wittenberg, WI.
The company introduced its boneless Applewood Smoked Pepper-Coated Ham in early 2020. This smoky, peppery ham is a memorable ingredient in breakfast sand- wiches or wraps, according to Dorsch, and the ham can stand on its own as a unique breakfast protein choice, too.
"We're seeing all-day breakfast con- tinuing to trend upward, and offering high quality breakfast solutions like our Premium Breakfast Sandwiches all day long can bring in sales beyond the breakfast daypart," says Craig Yoder, senior associate brand manager for Johnsonville, LLC, in Sheboygan Falls, WI. "These sandwiches are made with our premium sausage, real eggs, cheeses and vegetables, and use on-trend bread carriers. We've had oper- ators sell our products cold as well as hot and ready in warmers where consumers can grab what they want and move on with their day."
The line of sandwiches, which are pre-packaged and individually wrapped, include flavor profiles, such as the Spicy Sausage Bagel, Andouille Scramble Wrap, Italian breakfast Panini and Savory Breakfast Croissant. This line launched in 2017.
STOCK HOT BARS EARLY
Protein is the most common breakfast choice, usually in the form of eggs and bacon/sausage, according to Datassential's 2019 Breakfast Keynote Report. Accordingly, eggs are the number one item on the hot breakfast bar at Lunds & Byerlys' stores.
"We've recently switched to cage-free eggs and offer an egg bake, egg nests, fried eggs, scrambled eggs, spinach eggs, and eggs in quiche, breakfast sandwiches and breakfast burritos. As for meats, we offer links and sausage patties both pork and turkey selections as well as a beef kielbasa," says Stueland.
Sweet items also are popular, whether baked goods like muffins or platters of pan- cakes, according to the Datassential report. "Our stores have a strong bakery pro- gram, and the bakery, both full service and shelf service, are near the deli. Sometimes, especially if they are introducing a new item, they will cross merchandise a product over with us. However, we recently devel- oped what we call a Boosted Donut, or a protein-enriched donut made with pea protein powder."
Donuts are what over three-fourths (76 percent) of consumers surveyed said they would like to see more of on breakfast/ brunch menus, according to Restaurant Breakfast and Brunch Trends, U.S., pub- lished in September 2019 by London-based market research firm, the Mintel Group Ltd., with offices in Chicago and New York City. Other items desired include burgers/ pizza (72 percent), portable options like smoothies and breakfast sandwiches (67 percent), high-protein dishes (59 percent), and seasonal fruit (46 percent).
"We're seeing a lot of daypart blending with breakfast foods, with items like break- fast burgers or breakfast pizza appearing on more menus. If a supermarket has a pizza program, that might be a good place to pick up incremental sales. Bowls also are enjoy- ing the spotlight at breakfast—perfect for customizing ingredients and nutrition pro- files, while easy to transport, as well," says Datassential's Rodriguez.
MAKE THE MORNING MEAL GRAB & GO
Convenience is a main factor for away-from-home breakfast purchases, according to Amanda Wolff, marketing manager – direct to retail for Kerry, an Irish-based food and ingredient company with North American headquar- ters in Beloit, WI. "We're seeing retailers respond with new foodservice offerings. For example, Whole Foods now offers made-to-order breakfast and brunch options, such as oatmeal kits, quiche, morn- ing yogurt parfait bowls and coffee-to-go." "The breakfast day part is largely not a supermarket deli occasion. However, bringing in ready-to-eat grab-and-go oats will enable operators to drive another occa- sion in that space," says Aimee Tsakirellis, director of marketing for Ward Hill, MA-headquartered Cedar's Foods, which early this year acquired brekki, a Carlsbad, CA-based company that manufactures a line of dairy-free, ready-to-eat Overnight Oats. Flavors in this line include Vanilla Cinnamon, Banana & Maple Brown Sugar and Acai Berries.
Traditional breakfast foods, such as eggs and sausage, are now available as grab-and-go.
"Hard cooked eggs are seeing dou- ble-digit growth at retail, in c-stores and grocery channels, because they are easy to eat, supply a good source of protein and are satiating," says Brian Sowal, vice president of sales and marketing for Sauder's Eggs– R.W. Sauder Inc. in Lititz, PA.
The company offers two- and six-count hard-cooked eggs in stand-up pouch bags. Flavors include Regular, with a salt and pep- per packet included as well as eye-catching Red Beet and Buffalo varieties. Future fla- vors may include Dill, Honey Mustard and Sriracha.
Demand for unique flavors are driving sausage innovation. For example, Caprese, Aloha-style with pineapple and ginger, and the latest, Fig & Feta, are among the nine-item line of chicken sausages man- ufactured by Gilbert's Craft Sausages, in Wheaton, IL.
"People look for flavor, nutrition and convenience, and these products hit all three. They are highly portable, since each sausage is individually-wrapped, are ful- ly-cooked so you can eat right out of the package, and taste better and are better for you than a breakfast protein bar," says Chris Salm, founder and CEO. "Some retailers put our product in the set next to the hummus. We suggest cross mer- chandising with other handheld foods like hard-cooked eggs and fruits like bananas or apples for a nice breakfast on the go."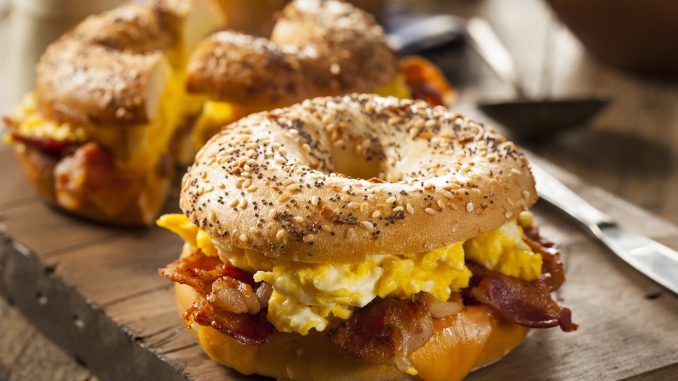 OFFER BREAKFAST MEAL DEALS
Bundle together bakery items and beverages with other breakfast foods either in one location for ease of purchase or as part of a meal-deal price promotion.
For baked goods, Blueberry, Chocolate Chip and Banana Nut rank at the top in muffin flavors. However, bakers should aug- ment their selection with relevant, regional seasonal flavors throughout the year, says Jayne Kearney, director of marketing for North Andover, MA-headquartered Bake'n Joy Foods, Inc. "Muffin of the Month programs as well as quarterly rota- tions of flavors that capture the best of what Mother Nature has to offer are solid ways to appeal to consumer tastes. Cross promotion also increases product move- ment, such as merchandising bakery items at in-store coffee shops."
Coffee rules beverages at breakfast, according to Datassential's 2019 Breakfast Keynote Report.
"Delis can pull in breakfast custom- ers by offering coffee with on-trend flavors and creamers. Hot espresso and iced coffee are the most popular types of away-from-home coffee and 75 percent of consumers love to try seasonal flavors, based on Kerry Proprietary Research. Offering premium coffee drinks with preferred flavors, such as white chocolate and sea salt caramel, as well as seasonal flavors like pumpkin spice and peppermint mocha, can draw in consumers," says Kerry's Wolff.
Lunds & Byerlys stores have Caribou Coffee shops near the store's bakery and deli's Creations Café area where breakfast is served.
"Customers may be able to order by app and can stay in their cars to pick up their breakfasts through a QSR drive through. However, a breakfast program like ours at retail lets them multitask at one of the busiest times of the day and a previously underutilized part of the day for us. That is, they can grab a customized breakfast to go or eat in. If eating in, they can enjoy our free Wi-Fi or maybe hold a quick meeting with clients or co-workers in our seating area where they don't have to wait for wait staff, each person can get exactly what they want, and there's no need to split a bill. We have a separate register in the café area and a three-tier basket of seasonal fruits by this check-out. At the same time, with our cold bars open, it's possible for customers to pick up lunch or snacks for the office or after work. Indeed, breakfast has become one of our best meals of the day." DB
---