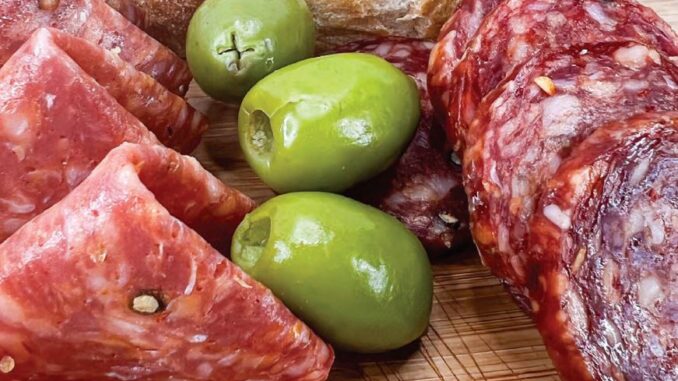 Quality meats with a story can generate sales.
A s consumers looked to the deli for quality food with restaurants closed during the pandimic, charcuterie in general and premium salami in particular enjoyed a resurgence. Delis sold a robust $250 million dollars in salami lunch meat in the year ending Oct. 3, 2021, according to IRI data reported in the Madison, WI-based International Deli Dairy Bakery Association's (IDDBA) What's in Store 2020.
"Charcuterie increased in popularity during the pandemic but has proven to have staying power because of its versatility and convenience," says Darryl Castle, marketing manager at Piller's Fine Foods, Waterloo Ontario Canada, adding that "85% of consumers are purchasing charcuterie meats at least monthly, and half are consuming them on a weekly basis."
Last December, Piller's commissioned Hanover Research to do a consumer survey on charcuterie.
"Salami is the charcuterie meat that consumers say they purchase the most often – 76% of consumers typically purchase salami," says Castle. "This is followed by pepperoni at 71% and prosciutto at 55%." Despite its history going back centuries in Italy as a prominent meat, however, there is no simple strategy for how to best merchandise deli salami because many kinds of consumers buy it for many different uses.
"When it comes to salami, the way it is merchandised and marketed is very important," says Claire Donohue, product marketing specialist at Volpi Foods. "It's about finding balance in reaching new shoppers while maintaining the loyalty of current ones. Creating sets that highlight the best ways to pair salami and mimicking it in online retail is a great way to meet consumers where they choose to shop. Shoppable displays across retail media platforms are just as important as in-store. Having everything the consumer needs for their charcuterie board, sandwich or pasta dinner in one highly visible location can not only make the shopping experience more enjoyable, it can increase basket size with ease."
John Volpi started dry curing meats in St. Louis' Hill neighborhood in 1902, three years after he arrived from Milan, Italy. The meats Volpi cured in the ways he learned in the old country appealed to consumers looking to replicate special quality eating experiences when restaurants were closed during COVID.
"Charcuterie has been trending for several years," says Donohue. "It became increasingly popular during the pandemic, as consumers sought exciting, premium foods at home. Online searches about charcuterie grew nearly 300% through 2021, with continued momentum in the post-pandemic period. This trend led to increased interest in charcuterie boards and grazing platters, which encouraged a lighter, less entrée-focused approach to meals."
FLAUNT THE VARIETY
The extraordinary variety of cured salami can be a challenge that retailers do well to use to their advantage.
"Offering pre-sliced salami in tandem with whole product behind the glass gives shoppers options, and they can choose to engage around slicing and usage or just grab and go," advised the IDDBA's What's in Store 2020. "Diversity in this set can also feed experience at the store level – simple sampling of Prosciutto di Parma side by side with a domestic prosciutto can drive sales and experience." Some producers offer options intended to introduce a variety of salami flavor profiles.
"With increased appetite for charcuterie, people are eager for ways to make authentic charcuterie convenient for group gatherings," says Oliviero Colmignoli, president and founder of Olli Salumeria, Oceanside, CA. "To cater to this growing trend, we launched our line of Olli Antipasto Trays, which offer 12 ounces of ready-to-serve charcuterie in a convenient tray for easy entertaining. These trays feature a variety of salami types, which help people experience the difference in flavors and also offer specialty pairings of artisanal cheeses and other accompaniments like olives, or cornichons and onions. Uniquely, Olli Antipasto Trays also feature peel-and-reseal packaging, which keeps the product fresh for longer and can reduce food waste."
Colmignoli learned to cure salami in Rome from his grandfather, who began making salami in the 19th century.
"For consumers who want a convenient starting point for their own charcuterie creations, we also offer a line of Olli pre-sliced salami in resealable 4-ounce packing with a variety of flavors from our most popular Genoa to the Spicy Calabrese, Pepperoni and more," says Colmignoli. "These distinct variations of classic Italian-style salami are a great foundation for people that are creating charcuterie boards at home or for tailgate parties and other gatherings this year."
The origin of salami as a way to preserve meat in the days before refrigeration open up a wealth of cross merchandising opportunities. "It is either shelf stable or refrigerated," says Alberto Minardi, western regional sales manager for the U.S. branch of Italian premium meat processor Principe, Fresno, CA.
"With the shelf stable, you cross merchandise wherever you can because you don't have the restraint of needing to refrigerate it." VERSATILE PROTEIN Salami is among the versatile Mediterranean foods gaining favor in North America as ingredients in a wide variety of dishes.
"Antipasto has been around for thousands of years but has gained immense popularity in the United States in just the past few," says Donohue. "Traditional flavors such as Genoa salami, Sopressata salami and prosciutto have always been staples. As more people begin to experiment with charcuterie in new ways, such as cooking, charcuterie boards and sandwiches, new flavors are coming into the spotlight. Finocchiona, a fennel-infused salami, has gained popularity for its unique and mild flavor. Guanciale has also been trending. This fatty, dry-cured pork jowl is the perfect ingredient for cooking, as it adds a savory, elevated flavor to pasta and fried rice."
This versatility opens up a range of cross merchandising opportunities and locations in the store to display salami.
"Cross merchandising deli items can be a lot easier than it seems," says Donohue. "It's all about finding a high-traffic item outside of the deli and pairing the perfect item with it. Cross merchandise pepperoni from the deli with pizza crust and sauce in center store. Place chopped pancetta by the eggs in dairy to create easy breakfast ideas. Knowing what people like to eat and enhancing it with items from the deli is a great way to merchandise in-store and online. It's all about creating recipes and inspiring creativity among shoppers." Colmignoli agrees that salami can be effectively merchandised in many locations.
"Retailers can take advantage of the versatility – and long shelf life – of salami by expanding displays beyond the refrigerated deli section," he says. "Secondary displays in other store sections that are classic salami pairings, such as crackers, cheese or wine, is an effective way of reminding customers about the possibilities of salami. Olli offers a robust range of secondary display opportunities for our shelf-stable products.
For Olli Antipasto Trays, we offer a floor display that holds 24 units or a shelf display that holds eight units, both ready-to-use. We also offer clip strips that can hold Olli chubs, pre-sliced salami or salamini products. This allows our retail partners to cross merchandise Olli salami with complementary sections of the store to drive incremental purchases." Salami benefits from finding uses at all times of the day.
"Usage is equally split between dinner and lunch, but also is a go-to for a late-night snack," says Castle. "Salami is a multi-function food: Consumers are using charcuterie meats as a snack, appetizer, ingredient, main dish, topping and more." The charcuterie board remains, however, the preferred way to offer a variety of salami products is with companions.
"Charcuterie boards and every possible form these can come in has been a consistent trend over the past few years, but we are also seeing an increase in the ways in which salami can be used in everyday meals," says Donohue. "From Genoa salami in mac and cheese to mortadella musubi, salami can enhance traditional dishes and add new flavor profiles to cultural cuisines." A product that we have seen gain traction recently is Volpi bresaola. It is essentially a beef prosciutto made from the eye of round. Not only is bresaola lean and tender, but it also showcases a beautiful ruby red color and sweet, aromatic flavor. Delicious on its own in paper-thin slices, bresaola also melds perfectly with Parmigiano Reggiano, arugula salad or dark chocolate."
In 2019, salami had the highest charcuterie board penetration at 24.8%, according to Chicago-based Datassential's MenuTrends report, followed by prosciutto at 15.9% and linguica at 1.4%.
THE CONVENIENT PACKAGE
Snack-sized grab-and-go packages are the most popular salami products. "We are also pleased to introduce the Olli salamini line of bite-sized salami sticks, which offer 2.6 ounces of bite-sized salami sticks in a resealable bag and are available in bold flavors like smoked, pequin, bourbon and classic," says Colmignoli. "We are also introducing a new Olli salamini and cheddar cheese curds snack this year, which pairs two favorite flavors in a convenient package."
More than $150 million of the quarter billion in salami sandwich meat sales was in the grab-and-go format, according to IDDBA's What's In Store. The grab-and-go packages can cross merchandise salami with complimentary cheese or olives.
"As more consumers were introduced to the robust flavor of salami, artisanal cheese and other charcuterie favorites, there is interest in enjoying these foods in portable snack form. As a result, the main trend we are seeing in recent years is an increased demand for convenience in deli meats. Whether it's grab-and-go snack packs or pre-packaged charcuterie trays, consumers want to make the process of enjoying salami and other deli favorites easy," says Colmignoli.
"Olli Salumeria has responded to this shift in consumer demand with our line of Olli snack packs, which pair our famous slowcured Italian-style salami with high-quality cheeses and artisanal crackers in a convenient 2-ounce package."
FORBIDDEN PLEASURE OR NEEDED PROTEIN
With more consumers looking to eat healthy, salami can be like fried chicken, one of the forbidden pleasures of the deli. The megatrend toward healthier eating may have contributed to salami's 4 % decline penetration in the four years before the pandemic.
Producers are responding to this challenge by sourcing and processing pork in ways that are healthier.
"Healthier versions of salami are gaining more and more popularity," says Donohue "Volpi salami is always nitrite and nitrate free, made with all-natural ingredients and pork that's raised responsibly. There are many other brands doing the same, as nitrates and nitrites that are not naturally occurring are known to cause health problems. Being transparent about ingredients is imperative, especially as people become more aware about what's in their food and how it can affect their bodies."
It is worth using animal welfare and natural ingredients in processing as selling points.
"Signage that highlights the products is a great marketing tactic, as well," says Donohue. "Featuring callouts on sustainability, animal welfare and diverse businesses can appeal to conscious consumers, as well. Making the product feel a bit more personal is a great way to start a conversation and create brand awareness through word of mouth."
Nitrite, nitrate and preservative-free salami can be a selling point. "The biggest health-focused trend in the deli category over the past several years is the shift toward clean-label products," says Colmignoli. "As consumers become increasingly aware of the health impact of certain food ingredients, they demand a higher level of transparency in packaged foods. To answer the call for clean-label products made with simple, honest ingredients, Olli Salumeria is introducing the industry's first preservative-free salami with our Olli salamini line. At Olli Salumeria, we truly believe that quality ingredients and careful attention to the curing process are the secrets behind the world's best salami – and customers can taste the difference."
Olli uses its clean label process to establish an identity for its salami. "Olli's proprietary curing process is a revolutionary step for modern salami making," says Colmignoli. "While salt is the primary ingredient used for curing and preserving salami, for many decades, salami makers have relied on nitrates and nitrites as added preservatives. However, Olli Salumeria has developed a simple salt cure that eliminates the need for added nitrates and nitrites, producing a salami that is effectively free of preservatives.
This groundbreaking curing process debuts with the Olli salamini snacks, but we will also introduce our preservative-free process to the Olli Salami Chubs line this year. As we continue to apply this innovative technology to our production, we plan to expand preservative-free throughout the entire range of Olli products."
"Our growth as a company relies on the quality of our products, so we remain committed to innovation and technology that allow us to produce a clean-label product without compromising flavor," says Colmignoli.
Many consumers answer the healthy diet question by including salami as a source of protein to be eaten in moderation. "I think the consumer considers it part of his diet," Minardi says. "In a balanced diet, salami is a source of protein, and prosciutto has iron."
The convenience and rich flavor of salami can entice even consumers who are generally trying to cut back on their intake of salt and animal protein.
"Americans love the distinct flavor of salami, and the category continues to grow each year, but consumers are also hungry for new ways to enjoy these foods," says Colmignoli. "At Olli Salumeria, we continually provide compelling new serving suggestions, flavor pairings, recipes and usage ideas on our website and social media pages that encourage customers to enjoy more of the salami they already love."
Consumers are looking for more variety in their salami products.
"In terms of what's new and interesting, in response to this consumer desire for more varieties and flavors, Black Kassel has recently launched three new varieties of small diameter salami," says Castle. "These premium cracker-size sliced salamis are perfect for an easy lunch or snack and convenient to use in creating a delectable charcuterie spread. Available in roasted garlic and asiago, red wine, and peppered flavors, all three varieties come in a convenient presliced 4-ounce format, are all naturally cold wood smoked and contain no artificial flavors or colors." DB