Fried chicken remains hot as a forbidden pleasure that many consumers crave as one of their exceptions to the general rule of trying to eat healthier foods.
In their reluctance to devote the attention and staff time it takes to do fried chicken right, many supermarket delis, probably most of them, are leaving money on the table by missing opportunities to become a definite destination for this crunchy, juicy standard.
"There are opportunities to create a great fried chicken product," says Greg West, senior vice president for marketing and food innovation at The Broaster Co., Beloit, WI. "The grocery stores have had trouble creating a fresh product. There's a lot of stuff held past its life; grocery stores have to execute and not hold it for four or five hours."
Tenders have a one-hour shelf life, according to West, bone-in less than two hours, and rotisserie chicken three hours.
"That's one reason rotisserie is so popular with the stores," he says. "But when you want great taste, it's in fried chicken."
Even with the reluctance to devote the time needed to maximize the category by always offering a fresh product, supermarket delis continue to enjoy robust sales of these products.
"Including all forms of fried chicken—bone-in, skin-on parts, nuggets, strips, patties and similar items—the market at grocery and club stores continues to show good growth for these products," says Tom Super, senior vice president for communications at the National Chicken Council, Washington D.C. "Shoppers value the taste, convenience, and good, steady prices for fried chicken."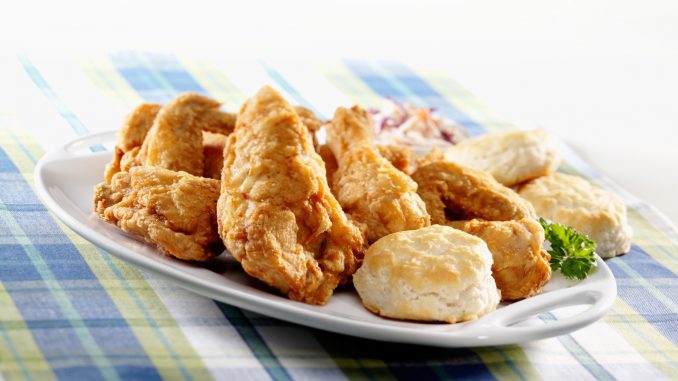 Make it Tasty
A successful fried chicken program begins with a product that is reliably crunchy, juicy and flavorful.
"What you really want is chicken that is moist, breading that is crunchy and spiciness in the breading, which usually means pepper," says Eric Le Blanc, director of marketing for deli at Tyson Foods Inc., Springdale, AR.
Good fried chicken, according to West, should be fresh and never frozen, marinated, coated with a breading, and pressure fried rather than open fried.
"It makes the product crispy on the outside and juicy on the inside," he says. "That's the magic. Our fried chicken, also available as spicy, has one of the lowest breading or coating levels for fried chicken. It is still very crispy on the outside and juicy on the inside."
The breading, or coating, is one area that adds a distinctive, and possibly fresh, flavor to the fried chicken program.
"There are a lot of advantages to breading at the store level," says Le Blanc. "There is a movement away from breaded toward breading."
Suppliers can set the deli up with a package that lets staff quickly and easily coat the chicken and then fry it.
"Our proprietary process allows the operator to prebread or precoat the chicken ahead of time, allowing them to immediately drop or fry chicken upon an order," says West. "This gives greater simplicity in the execution."
There has been an evolution, as major players in fried chicken have come to embrace the delicious greasy stuff, rather than run away from it.
"Kentucky Fried Chicken changed its name to KFC in 1991 to avoid the connotations of the word 'fried,'" says West, who used to work for the Colonel. "Today, they promote 'finger lickin' good.' It's all about the taste."
The fried chicken category is one deli category where, for the time being, flavor triumphs over nutrition.
"Short term, I don't think the trend toward healthier eating is any threat at all to fried chicken," says Le Blanc. "It's an indulgence product. I have seen no evidence fried chicken shoppers care about anything other than the flavor."
Make It Convenient
According to consumer data compiled by Tyson, when it comes to deli chicken, shoppers' convenience is even more important than quality.
More than a quarter of deli prepared food shoppers don't decide what's for dinner until someone says they're hungry, and these consumers are choosing chicken; chicken is number four among deli meats, but number one among prepared meats.
The deli is ideally positioned to offer consumers many choices of dishes to buy to combine with fried chicken to put together a convenient meal.
"Creating the meal is about stretching the meal companions," says Tyson's Le Blanc. 'If you put other fresh ingredients with it, you can provide a better eating experience. Co-merchandising is nice, but not really necessary."
The complete meal can be an effective way for the deli to display and merchandise fried chicken.
"Promoting meal kits continues to be an option delis are using, in addition to the more standard approaches of buy-one/get a free side item, weekend specials, home delivery/pick/up bonuses and the like," says Super. "Long gone is a deli that just offers bone-in/skin-on fried chicken."
The companion foods can be an area where the deli pays homage to good nutrition, in addition to offering the flavorful mist, greasy crunch that is fried chicken.
"I'm not giving up fried chicken; I just eat more vegetables with it," says West. "Chik Fil A will have a side salad, a fruit salad, even a kale salad."
Further evidence of the popularity of convenient meals built around chicken can be found in the growing popularity of meals in a bowl.
"A bit similar to the rising demand for bowls is the renewed interest in mac and cheese dishes," says Super. "While some restaurant chains are having success by adding lobster pieces to mac and cheese, supermarkets find this to be costly and the supply too tight and uneven. So, the other white meat, chicken, is stepping-in to save the day, or rather extend the appeal of mac and cheese to those consumers who desire more taste and texture. With an abundance of chicken breast meat, delis can be confident that managing this part of their menu will be less taxing than much of their other concerns. Also, just like fried chicken that can be offered hot or chilled, mac/cheese/chicken finds favor warm or chilled."
The recent chicken sandwich craze is yet another example of the popularity of the convenient meal that could be developed in a fried chicken program.
"The recent extreme popularity of an upgraded chicken breast meat sandwich at a major fast food chain is not lost at the deli department in many supermarkets," says Super. "These stores are diligently working to have their version of this highly/widely popular sandwich. Operationally, executing the preparation and delivery of a successfully competing sandwich can be a challenge for some deli departments. But, for those stores that can attract shoppers with this new sandwich, the rewards can be positive and likely store wide. Stores that have eat-in/sit-down eating areas have the advantage with this sandwich."
Whatever the fried chicken is paired with, consumers want to see it displayed in a way that is easy for them to see and purchase without waiting.
"Mostly, it's in the deli's hot service case, and a good percent of shoppers like that they can grab it without waiting in line," says Le Blanc.
Make it Economical
One reason chicken, especially prepared chicken, is so popular in the deli is it is so inexpensive.
"Fried chicken fluctuates quite a bit with price promotions, but sales have been generally steady," says Le Blanc. "There will be a couple down years followed by a couple of up years, but fried chicken is about the most price sensitive item among prepared hot foods. Fried chicken is usually sold by the piece. Eight pieces is the most common, but you also see two- or three-piece lunch offers."
Offering fried chicken that has cooled off opens the product to an even larger number of lower income consumers.
"Once it is cold, it is eligible to be sold under the SNAP program, which opens up a lot of customers," says Le Blanc.
Because global trade is going through an uncertain phase, supermarket deli retailers would do well to prepare in advance for the possibility that demand for chicken could increase dramatically in a hurry and drive up the price.
"Competing red meat products have experienced much more volatility in the wholesale prices, as the ups and downs in the export market have impacted the current and future outlook for domestic availability of these meats," says Super. "At the same time, if the Chinese market re-opens for U.S. chicken, retailers could see some price pressure on their chicken products. Many of the larger retailers are working with their current and potential chicken suppliers to agree upon a contract that is fair to both sides in the event that China steps in to purchase a large, ongoing quantity of chicken." DB
---