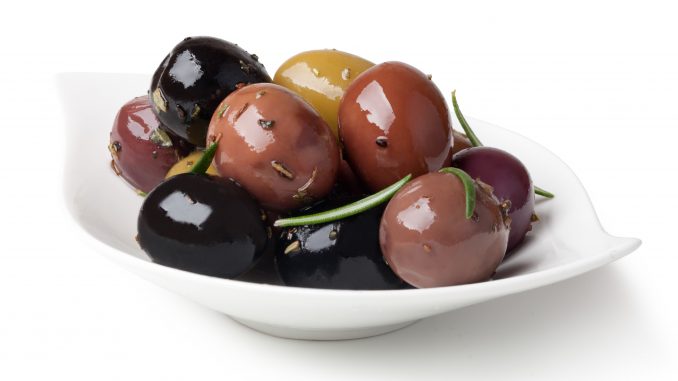 Olives are one of the world's most ancient foods. Olive trees are some of the oldest trees ever harvested by humans, a practice that dates back more than 8,000 years. Yet a few decades ago, the average American consumer knew only a few varieties—some were green, some were black, some were pitted, and the best ones were pimento-stuffed…and that was the end of the story.
Today, there's a wider variety of olives available than ever before—a great thing for supermarkets and delis. Fun fact: olives are fruits, not veggies. They're a specific kind of fruit called a "drupe," with a single large stone inside. But unlike, say, peaches and plums, olives are full of the compound oleuropein, which make them incredibly bitter. Tasting an uncured olive is not a very pleasant experience. That's why olives are cured before they're ready to be sold with water, lye (in big commercial operations), a brine or even the sunshine.
Because olives get their unique color, flavor, shape and texture from their genetics, their region and climate, and how they were harvested and cured, there are a huge number of possibilities. Factor in marinating, seasoning and stuffing olives, and the list just gets longer. Olives provide big pops of flavor that are indispensable for cooks, snackers and entertainers alike. Olives add briny, complex flavors to salads, pizza, pasta and beyond.
As customers seek wholesome, "real" foods, olives fit the bill. They are packed with healthy monounsaturated fatty acids, associated with decreased risk of heart disease, reduced risk of chronic disease, lower blood pressure and more far-reaching health benefits. Plus, these healthy fats may also aid in weight loss. Olives are also rich in polyphenols, which fight oxidative stress and may protect against diseases like heart disease, high blood pressure and cholesterol. And they're full of Vitamins A and E. As the Mediterranean diet, with a focus on fresh fruits and veggies, legumes and healthy fats, becomes more popular, so do olives, a Mediterranean staple increasingly popular in the U.S.
A Lucrative Business
Olive and antipasti bars bring the Mediterranean experience to life with vibrant colors and flavors on eye-catching display, and they are often a top-selling product for any specialty or deli department.
David Dottorini, who heads up the export office at Italy's Ficacci Olive Co., emphasizes the many benefits of bulk olives. "The bulk-sized range provides counters loaded with yummy olives, either plain or garnished with recipes offered from the Italian tradition, thus bringing taste and assortment to food counters, saving time, reducing waste and, most importantly, arranging a catchy deli display with a balanced assortment both in flavors and in colors with great sales turnover," he says.
To break it down, the self-serve, mix-and-match components of an olive bar means customers can try something new without committing to a whole jar from the grocery aisle. Stores can buy in bulk, which keeps costs down. Customers can buy as much or little as they like, which makes the experience feel personalized. These bulk olive are usually of higher quality—and price—than the pasteurized olives sold in the grocery aisle in glass jars or tin cans.
The olive bar is such a lucrative, popular choice it has expanded to include non-olive options, from cherry red South African peppadew peppers to Roman-style artichokes to cippollini onions marinated in balsamic vinegar to marinated Mozzarella and Feta. The deli olive bar differs from the grocery aisle in another way, too; with its bright colors and cornucopia of options, it feels like a destination.
"Today, the ubiquitous olives serve as both a cultural staple and a gourmet specialty," says Patty Amato, senior vice president at Farm Ridge Foods, based in Islandia, NY.
Olives in attractive displays "look more fresh and of higher quality, which allows margins to be higher," according to María Becerra, a representative from the Trade Commission of Spain in New York City. Yet the need for constant rotation and supervision—to make sure kids don't put their hand in the olive jar, for example—means more time, training and attention are required at the store level.
Well-trained staff can help educate customers and sell product. Deli teams should be well-versed in maintenance, display and proper opening and closing procedures. They should also be familiar with the taste and usage for each olive variety.
But the olive bar is not the end of the conversation. Snack packs in individual-sized containers are having a bit of a moment, as are larger pouches of resealable packs. "The classic stand-up packaging dating from the '60s is experiencing an incredible rebound," states Dottorini. Ficacci has a new line of six SKUs, packed in a protective atmosphere with no preservatives. "Look and quality, with an eye to price, are the keystones of this brand-new range," he says. Another innovation that makes snack packs more appealing is the new brine-free offerings, which means no mess and no oily residue on snackers' hands.
Popular Varieties
Which olives are the most popular? "Pitted Kalamata olives, pitted green olives, stuffed olives and olive salads are the staples for the supermarket deli olive bar," Amato weighs in. The Kalamata, sometimes called the black pearl of Greek olives, is a versatile bestseller.
The most popular Italian olive worldwide is the green Castelvetrano from Sicily. Amazingly crunchy, green due to an early harvest with a buttery taste and a low salt content, it's easy to see why. Other popular varieties include the Bella di Cerignola from Italy's Puglia region, well known for having a huge size and being the first Italian olive sold in the U.S. and the Nyon, petite, jet-black olives from the south of France. More olive bar staples include the Niçoise, a crucial ingredient in the classic dishes of the French Riviera; dry-cured and flavorful Moroccan olives named Beldi; small, purplish-brown, wrinkled olives from Puglia called Gaeta; and Mission olives, which are from America.
Speaking of domestic olives, Mission olive trees have flourished in California since the 1700's; most of the yield goes to make olive oil, but black oil-cured and green brine-cured table Mission olives are both mild, grassy and bright in flavor. California is the only state in the U.S. that commercially produces olives. Most olives for sale domestically are imported from Spain, Italy, Greece, Tunisia and Mexico. Spain accounts for 87 percent of olive imports.
Customers are eager to try new flavors of olives, seasoned with herbs and spices or "other ingredients like carrots, peppers, sundried tomatoes and cheese," says Becerra. "Stuffed olives and unique varieties are increasingly popular. There is innovation in the category of stuffed olives from Spain, including anchovies, lemon, tuna, salmon, piquillo pepper," as well as creative blends of flavors and seasoning, from gazpacho to Provencal.From dry pack to glass jars, tins, pouch packs and plastic cups, the methods used to pack and transport olives are numerous. This rich variety of olives lends itself to natural cross-merchandising opportunities with cheese, charcuterie, nuts, hummus, fresh pasta, wine and beer. With some consideration and effort, an olive bar can be a true expression of a deli's brand and a serious draw for customers. DB
---